August 30-September 5, 2006
home | metro silicon valley index | silicon valley restaurants | review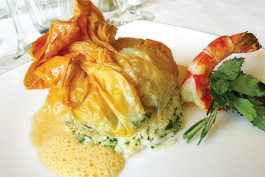 Photograph by Felipe Buitrago
Would you like a bag for that?: Shrimp and scallops in a bag is a specialty at Twist.
All Over Twist
Franco-American fusion has taken Campbell by storm
By Stett Holbrook
IF I HAD my way, I'd eat lunch at Twist Café everyday, at least for a month or two. That's about how long it would take to work through the downtown Campbell restaurant's great menu of salads, sandwiches and other special dishes.
The attractive eatery describes itself as "American food with a French twist" (twist, get it?). But the menu is broader than that. There are dishes with Middle Eastern, Asian and Italian influences as well.
Although it's an unassuming neighborhood cafe, Twist packs some culinary firepower. Co-owner Dominique Faury cooked for years in top U.S. and European restaurants, including Le Bristol, Taillevent and Apicius, Parisian restaurants that earned two and three Michelin stars. Before opening Twist, Dominique's partner Eileen Faury was executive chef at the Westin Hotel in Palo Alto.
As a result of the Faurys' culinary expertise, the menu is satisfying and familiar, but exudes a refinement seldom found at lunch shops, especially at these great prices. In spite of all the menu choices, I'd order the rock shrimp cilantro wrap ($7.95) again and again. This fantastic creation combines fat and juicy shrimp with avocado, mixed greens, harissa (a North African chile paste) mayo and tangy salsa in a tomato-flavored flour tortilla. Add it all up and it's the perfect lunch sandwich, light enough not to weigh you down and delicious enough to make you want another one right away.
The roasted chicken ravioli ($7.95) is another winner. The plump, beer-coaster-size ravioli are sautéed instead of boiled and the slight browning of the pasta coupled with the roasted vegetables on the side gives the dish a rustic, hearty appeal.
On a visit when I had a bigger appetite, the rotisserie chicken ($7.95) hit the spot. Half a chicken, moist and tender, is served with roasted artichokes, red bell peppers and squash and ladled with a choice of sauces. I highly recommend the red-wine mushroom bacon sauce. I could drink a pint of the stuff. It was great with the chicken, but then tree bark would taste great drizzled with this sauce.
Twist's large salads easily work as lunch entrees. The Cobb salad ($6.45) is fresh and good, but lacks the je ne sais quoi that elevates many of the other dishes above the ordinary.
On busy weekdays, the line can stretch to the door, and table space, particularly on the cafe's appealing front patio, is hard to come by. But this being lunch, customers usually eat and go fairly quickly, so you won't have to wait too long. The narrow dining room is filled with two- and four-top tables and the walls are hung with framed menus from throughout France.
Because of its popularity, Twist recently expanded into the space next door about two months ago to open Twist Bistro. The bistro menu is decidedly more French than the cafe, and the setting more elegant. While the dishes I tried weren't as consistently good as the cafe, Twist Bistro has quickly become one of Campbell's top dinner stops.
Appetizers are very strong. Coming right out of the oven, the braised leek and goat cheese tart ($7.95) was great. The flaky pastry was more hearty than light and airy, but still quite good and filled with a generous layer of cheese and leeks. The vichyssoise (chilled potato soup, $6.95) was some of the best I've ever had. It was surprisingly light and refreshing and topped with sweet shrimp because the kitchen was out of the lobster it usually serves with it.
Although it may not sound good, shrimp and scallops in a bag ($19.95) was the best entree I tried. The shellfish is lightly sautéed and tossed with braised leeks and then gilded in a basil lobster butter sauce. Then it's all wrapped in a tall and beautifully brown phyllo dough crust, a buttery, flaky layer that forms the "bag."
The hanging steak and French fries ($19.95) is classic French bistro fare, and it's quite good here. Better known as a hanger steak, a cut that "hangs" between the rib and loin, the tender meat is sliced and fanned out on the plate and served with the requisite french fries and béarnaise sauce. My only complaint is the meat was less than hot when it reached the table.
The only duds were the lamb steak ($22.50) and the steamed red snapper fillet ($19.50). The lamb was tender and juicy enough but had little flavor, a problem even the assertively flavored Kalamata olive sauce couldn't fix. But the accompanying ratatouille was great. The snapper had the same problem. The fish was cooked just fine but had a one-dimensional, ho-hum flavor. However, the sweet and rich tomato stew served with it was delicious.
For dessert, the ravioli of pineapple ($5.95) sandwiches a rich pastry cream between thin slices of roasted pineapple. The "ravioli" sits on a deep red pool of strawberry soup. It's an inventive dish and the tartness of the pineapple helps tame the sweet strawberry coulis.
---
Twist Café and Bistro
Address: 247 E. Campbell Ave., Campbell.
Phone: 408.374.8982.
Hours: Cafe 9am-3pm Tue-Fri, 9am-2:30pm Sun; Bistro 5-9pm Wed-Thu and 5-10pm Fri-Sat.
Cuisine: French and American
Price Range: Lunch $6.25-$8.95, dinner $16.95-$22.50.
Send a letter to the editor about this story.