August 30-September 5, 2006
home | metro silicon valley index | the arts | visual arts | preview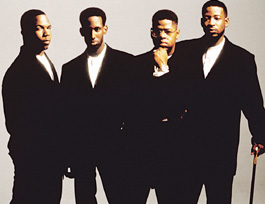 Seasonal Soul: Boyz II Men perform Oct. 20 at the Campbell Heritage Theatre.
Fall Arts: The Sequel
More series and special events fill up the autumn roster
AS SURE as the leaves drop from the trees and the city changes garbage contractors, our annual Fall Arts Guide isn't as inclusive as we hoped. Like any good play, it leaves you wanting more, and we have more. For starters, we want to be sure to let people know about the new collaboration that is bringing American Musical Theatre of San Jose's holiday production, Christmas Dreamland, to the Campbell Heritage Theatre, Nov. 24-Dec. 24.
Rather than using the cavernous, aisleless Center for the Performing Arts, AMTSJ has chosen the 1938 Spanish Colonial Revival Heritage Theater as the home base for what it hopes will become an annual musical spectacular with local singers, dancers, showgirls, too many snowflakes to count and lots of sequins and glitter. The ornate setting of the William H. Weeks-designed theater should complement the show nicely; with its hand-painted tiles and bas-relief flourishes, the theater is very much in the mold of the grand art deco movie palaces of the era. The theater was originally built as the auditorium for the Campbell Union High School, which only goes to show you what public education was like before Prop. 13—even during the Depression. Fans of the local architect already know that the prolific Weeks was responsible for the Hotel De Anza and the Coconut Grove at the Boardwalk in Santa Cruz. In addition to Christmas Dreamland and an October concert by Boyz II Men, the Campbell Heritage Theatre will also present five concerts in its performing-arts series in 2007.
Series
Campbell Heritage Theatre 1 W. Campbell Ave., Campbell; seasons subscriptions are $244; 408.866.2700
Boyz II Men—Oct. 20
Christmas Dreamland, an AMTSJ presentation—Nov. 24-Dec. 24 (1.888.455.SHOW )
2007:
Hungarian State Folk Ensemble—Jan. 14
Moscow Festival Ballet Cinderella—Feb. 15
Urban Cowboy, musical—March 23
Jim Brickman, pianist presents Disney songbook—April 20 David Benoit, pianist performs the classics—May 17
Contemporary Asian Theater Scene (CATS) 408.298.2287; www.asiantheater.org
CATS Night with TheatreWorks' M. Butterfly, with post-show reception with cast—Sept. 15 at Center for the Performing Arts, 500 Castro St., Mountain View ($50)
New Playwright Class, What Story Needs to Be Told—Sept. 16 and 23, 10am-1pm at Calaveras Repertory Theatre, Milpitas
Sixth Annual Asian Comedy Night—Oct. 21 at 7pm (G rated) and 9:30pm (R rated) at the Montgomery Theater, San Jose
Wong Flew Over the Cuckoo's Nest with Kristina Wong—Dec. 15-16 at 18 at MACLA, San Jose
The Choral Project
Various venues; $18-$25; www.choralproject.org
Gala Opening Concert, featuring works by Strauss and Veljo Tormis plus a variety of folk songs—Sept. 29-30 at Christ the Good Shepherd Lutheran Church, 1550 Meridian Ave., San Jose
Holiday Spectacular—Dec. 3 at 2:30pm at Chateau Julien Wine Estate in Carmel; reservations are a must at 831.624.2600
Winter's Gifts: Peace, a collaboration with the San Jose Chamber Orchestra—Dec. 8 at 8pm at Mission Santa Clara, 550 El Camino Real, Santa Clara, Dec. 9 at 8pm at Holy Cross Church, 126 High St., Santa Cruz and Dec. 10 at 7:30pm at St. Benedict's Church, 1200 Fairview Rd., Hollister
Flint Center 2155 Stevens Creek Blvd., Cupertino
Terracotta Warriors, a multimedia spectacle about the first emperor of China (circa 221 B.C.E.)—Sept. 26-28 at 8pm, Sept. 29 at 1 and 8pm ($41-$96)
Yunnan Folk Dance and Music, presented by Nan Hai Arts—Sept. 30 at 7:30pm ($35-$100)
Mark Twain Tonight, a famous one-man show about the author by Hal Holbrook—Oct. 21 at 8pm ($31-$51)
Anne Murray—Nov. 21 at 7:30pm ($36-$56)
Kathy Griffin, the queen of the D-list—Dec. 3 at 7pm
Palo Alto Chamber Orchestra Directed by Benjamin Simon; at Stanford's Dinkelspiel Auditorium and other venues; $6-$20; 650.856.8348
Dana Putnam Fonteneau, guest cellist, works by Corelli, Zhou Long, Hilary Tann, Boccherini and Mendelssohn— Oct. 21 at 8pm
Sinfonia concert—Nov. 11 at 8pm at Cubberley Theatre, 4000 Middlefield Rd., Palo Alto
Debut Ensemble—Nov. 19 at 3pm at the Palo Alto Art Center, 1313 Newell Rd., Palo Alto
Cypress String Quartet in a program that features Beethoven's Symphony no. 8—Dec. 16 at 8pm
Events
Vietnamese Traditional Opera, Phung Nghi Dinh Sept. 3 at 3pm at the Montgomery Theater, Market and San Carlos streets, San Jose; $30-$45; 714.590.1360
Monterey Jazz Festival Festival artists include Oscar Peterson, Dave Brubeck, Roy Hargrove, Hank Jones and more (see www.montereyjazzfestival.org for full schedule)—Sept. 15-17 at Monterey County Fairgrounds; $30-$190; 925.275.9255
Ballet Folklorico Mexico Danza Sept. 16 at 7pm at the San Jose Center for the Performing Arts; 255 Almaden Blvd., San Jose; $15-$35; 510.475.7388
China Guangzhou Cantonese Opera Troupe Presented by the Cantonese Opera Association-Silicon Valley—Sept. 28 at 7pm, Sept. 29-30 at 7:30pm and Oct. 1 at 2pm at the Montgomery Theater, Market and San Carlos streets, San Jose; $30-$60; www.chineseoperausa.org
San Jose Arts Festival Arts and craftspeople showing wares. Oct. 6, 11am-7pm, Oct. 7, 10am-7pm, Oct. 8, 10am-5pm; $6.50/$7.50; www.americanartfestivals.com
Book Arts Jam With artists and book-arts groups showing fine press books, hand-made paper and other samples of fine bookmaking—Oct. 14, 10am-4pm at Foothill College, 12345 El Monte Rd., Los Altos Hills; free ($2 to park), www.bayareabookartists.org
A Convention of the Tattoo Arts With live demos, contests and displays—Oct. 20-22 at Parkside Hall, San Jose; $15-$30; 408.441.7770
Send a letter to the editor about this story.