August 30-September 5, 2006
home | metro silicon valley index | movies | current reviews | film review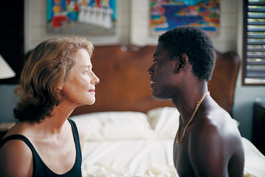 Island Interlude: Charlotte Rampling enjoys the company of Ménothy Cesar during her vacation in Haiti.
Haitian Divorcees
The old lioness Charlotte Rampling shows her claws in 'Heading South,' a tale of sex, tourism and sunbathing
By Richard von Busack
DESPITE WHAT Mae West thought of herself in her later years, Charlotte Rampling may be the first over-60 female sex symbol. Heading South, Laurent Cantet's sea-green-colored tale of sex tourism in Haiti, stars Rampling as Ellen, the queen bee of a beachside resort. And as in Ozon's Under the Sands, Rampling is never more full of erotic challenge as when she's lolling her lean body in the sun, shading her impassive eyes from the glare.
Heading South begins intriguingly, in a prologue. In the late 1970s, at the Port Au Prince airport, a woman approaches Albert (Lys Ambroise), the black-suited manager of a tourist-class hotel. Speaking very circumspectly, the lady offers her daughter to Albert. He can't understand what she's trying to give him or sell him: A slave? A prostitute? A daughter? A wife?
In a few deft minutes, Cantet sketches out the unbearable injustice of the island, enough so that when Ellen calls Haiti "a dung heap" the judgment doesn't seem too extreme. Albert would agree, though; the island has been repeatedly invaded by tourists with guns and money. In a voice-over interior monologue, Albert says that Americans have polluted everything they've touched.
Ellen may be disgusted by the island's living conditions, but she doesn't have any serious political feelings. She is a French professor at Wellesley who only really lives when she's on vacation. By virtue of her attractive arrogance, she has claimed Legba (Ménothy Cesar), the most amiable of the beach gigolos lolling around at the resort. Ellen buys him sodas, feeds him hotel food and takes him back to the bedroom at night.
Ellen believes she knows everything, but she doesn't realize that the hotel's new arrival, Brenda (Karen Young), a half-mad housewife, saw Legba first, three years ago. What ensues is a tug-of-war, in which Brenda has the advantage of compassion and Ellen the advantage of force. Young played the FBI agent on The Sopranos who systematically destroyed Adriana. Young has a square, unpretty face, and she's not a smiler. She is firm and yet neurotic enough to make you believe the soap-opera-ish side of Heading South—the idea of the sort of love affair that leaves a woman wandering on a beach like a shipwreck victim, staring into infinity.
Legba's side of the story proves a little harder to fathom. He is proud of earning money and not passive. And sometimes, he is allowed to get his own back. Cantet found a robustly handsome actor to play Legba. And you can imagine women going to see Heading South for all the wrong reasons.
It's certainly an antidote to How Stella Got Her Groove Back, anyway. Cantet's objections to this sex trade are good ones, and not puritanical: Like most tourists, Brenda and Ellen aren't meeting the culture on its own terms. And the final scene of Brenda looking out to sea, reciting the names of different Caribbean islands, rolling the words on her tongue like chocolates, implies that Brenda will be spreading the evil of the all-conquering dollar, although it's possible she has learned something about pain and poverty in the overtouristed islands.
Heading South is based on three short stories by the Haitian writer Dany Laferrière, a Quebec-based immigrant who also wrote How to Make Love to a Negro Without Getting Tired, made into a truly annoying movie in 1989. Cantet previously directed Time Out, about a family man's self-exile after he was laid off. Cantet has a similarly unusual subject here, and it has been almost 20 years since the last time since someone took the topic on. A Winter Tan (1987), based on Maryse Holder's Give Sorrow Words, is also about a middle-aged woman heading to the tropics to find authentic men; in real life, Holder was killed by one of her tricks, in Mexico.
Cantet has trouble explaining the pasts of the women who go to Haiti. The simplest one, Sue (Louise Portal), is there for the fun and the sex. But Brenda and Ellen reveal their backstories directly to the camera (just as Jackie Burroughs did as the doomed Holder in A Winter Tan).
Sometimes, it seems Cantet hasn't really defined the women except as a set of yearnings: the imperious Ellen longing to dominate and Brenda longing to surrender. The confessional device rarely works on film, and the stories are hard to credit. It's where Heading South heads south. It took Brenda three years to get back to Haiti, where she'd had the most intense experience in her life? And it's hard to imagine Charlotte Rampling walking around some place unnoticed, particularly a college campus.
Cantet makes the dangerousness of the cities palpable. At a market, when Brenda emerges from a taxi, everyone turns their head at the same time at first sight of the stranger. The locations, and the novel situation, make the film interesting, but it's noteworthy really as a vehicle for Rampling, who knows how to play the hurt and bitchiness and make it invigorating, sexy. This is a contest between lionesses—a proud one and Young's wounded sad one—and it's Rampling who keeps one most engrossed as to how the contest will end.

Heading South (Unrated; 108 min.), directed by Laurent Cantet, written by Robin Campillo and Cantet, photographed by Pierre Milon and starring Charlotte Rampling, Karen Young and Ménothy Cesar, opens Sept. 1.
Send a letter to the editor about this story.