August 30-September 5, 2006
home | metro silicon valley index | movies | current reviews | film review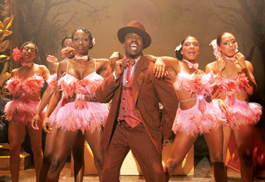 Photograph by Michael Tackett
Fine Feather Friend: Antwan A. Patton plays song-and-dance man Rooster in the gangster musical 'Idlewild.'
That's Entertainment
'Idlewild' delivers Outkast as two solo acts in a clever Depression-era musical
By Richard von Busack
BY SOME MEASURES, OutKast is the most popular musical act since the Beatles. In Idlewild, Antwan A. "Big Boi" Patton and André "3000" Benjamin show what the fuss was about. In musical gangster film set in 1935 a fictional Southern town called Idlewild, Patton plays Rooster, a cock-of-the-walk song-and-dance man who sidelines in bootlegged corn liquor. Rooster's melancholy chum is Percival (Benjamin)—as courtly and virginal as the knight he's named after. Percival works in his family's mortuary business and takes care of his alcoholic father (Ben Vereen).
Thanks to Rooster, Percival is forced into a gig playing the piano at the local juke joint. When Rooster's boss, Spats (Ving Rhames), tries to retire, he is rubbed out by a hoodlum named "Trumpy" (Terrence Howard, who proves once again why people believed in Hustle & Flow: it wasn't the script, it was Howard). When a chanteuse from St. Louis named Angel Davenport (Paula Patton) turns up to sing at the club, Percival finds love. But Rooster's scheme to make some money on the side gets all three into dangerous waters.
Unlike most music-video grads, director/writer Bryan Barber doesn't deliver a visual seminar on the thrill of using an AVID. Unlike Rob Marshall in Chicago or Baz Luhrmann in Moulin Rouge!, Barber concedes that a musical maker can't really avoid the problem of the proscenium arch, no matter how much he fractures the songs and dances. That's one reason Idlewild is a far better movie than those two previous hits. When Barber cuts, he cuts for a purpose. He conceals his stars' lack of dancing skills superbly. In the art deco stairway-to-paradise routine during the end titles, watching Benjamin saunter in and out a line of dancers, you'd be hard pressed to tell he wasn't one of them. Benjamin is as cool as a Persian prince and as odd-duckish as Chaplin. Craning his head around from the piano keyboard to greet an audience or gently jesting with the corpse of a man who insulted him, Benjamin is just what the modern musical needs.
Unfortunately, Rooster's and Percival's stories never really merge. Some will come to see OutKast, but Idlewild essentially tells the story of two solo acts. In addition, the gangster elements are far too violent for the musical mood. The cast seem to understand the weight and seriousness of a revolver when they have one in their hands, and that alone might have been enough to ground the film. Still, amid the feathers and sequins of the musical numbers, it's like having the gangster massacre scene in Some Like It Hot played in bloody Scorsese style. Despite its musical exuberance, Idlewild has the numb, fatalist logic of an urban film. When one character dies, the death is supposed to be fate: "God doesn't make mistakes," says Rooster, even though God had nothing to do with it—Rooster's scams were directly responsible for the killing. In bits and pieces, Idlewild holds its own with the finest MGM musicals, but the film is sometimes as wonky as the worst of them.

Idlewild (R; 90 min.), directed and written by Bryan Barber, photographed by Pascal Rabaud and starring André Benjamin, Antwan A. Patton and Terrence Howard, plays valleywide.
Send a letter to the editor about this story.