August 30-September 5, 2006
home | metro silicon valley index | the arts | stage | review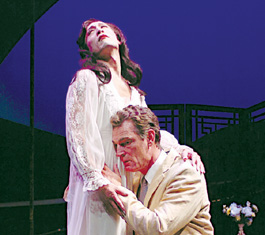 Photograph by David Allen
Wings of Deception: Song Liling (Francis Jue) spends 20 years tricking French diplomat Gallimard (Mark Capri) in 'M. Butterfly' at TheatreWorks.
Butterfly Takes Wing
TheatreWorks emphasizes the view from the East in its new production of 'M. Butterfly'
By Marianne Messina
THE CHARACTER Song Liling in David Henry Hwang's play M. Butterfly maintains that the West fancies itself a dominant "male" culture in relation to effeminate (ideally submissive) Eastern cultures. In court, after posing as a woman for 20 years to spy on French diplomat Rene Gallimard, Song derides the "Western rape mentality" of "Her mouth says no, and her eyes say yes" as he boasts that Gallimard was easily duped. From his prison cell, Gallimard claims that a man simply wants "the unconditional love" of a woman he doesn't deserve (overlooking some minor sadistic business about sticking pins in butterflies).
As Gallimard (Mark Capri) unfolds his story, juggling several realities, he talks in his dreams to characters from his past and to us. And the ever-present question is who has power over what. In TheatreWorks' production, it is the Chinese vision that dominates the elements. Gallimard sits meekly on the sidelines through two substantial Beijing opera sequences featuring (and directed by) Jamie H.J. Guan, with Nicholas Hua Guan, Austin Ku and Francis Jue in tall headdress as opera star Song Liling. A highly choreographed battle scene features synchronous twirling with colorful staffs to dramatic Chinese percussion. Boxes in deep wood tones with Chinese carvings serve as furniture or props and match the carved Chinese screen that forms various walls. Whether the scene is the French embassy, the French prison or Gallimard's flat back in France, the same Chinese-flavored building blocks become desks, tables and beds. Set designer Kate Edmunds' swoosh of a ramp allows for high entrances and lengthy descents. And behind it, a cutaway screen, shaped like a fan, projects the lighting designs in seductive pastels of Steven B. Mannshardt.
The dominant Chinese vision helps unseat the cultural inertia of a mostly Western audience, and it enables us to take in the play's many vicissitudes (of perspective, of power dynamics) with more fluidity. Gallimard's 20-year deception makes him a laughing stock—a unique type of narrator in terms of sympathy. But Capri manages to have us laughing with Gallimard instead of at him by giving him objectivity and humor, and by playing him as a sort of MC of This Is My Life. Capri gives us only an occasional, passing facial expression for a brief glimpse of the painful emotions underneath. As a result, the play is much funnier than, say, the film version (in which Jeremy Irons played Gallimard), which was smothered in gravitas.
Jue takes Song from lovely, flowing movements as an opera star to submissive posturing as Butterfly; from childishly gleeful outbursts of one-upmanship with Comrade Chin to crass, "pimpish" behavior as the spy in the courtroom. Jue's character is crafty and not so much arrogant as enjoying the thrill of putting things over on people. Jue reveals a Song who is as much a slave to his love for movement and appearance as Gallimard is a slave to his love for the fantasy woman.
As ever, Fumiko Bielefeldt's costumes offer delightful surprise down to the linings, like the lush pink under a satin turquoise shift. There's a gossamer gown that appears purple in one of Mannsardt's lightings and a multilayered kimono with sashes that Jue strips off piece by piece in ritual metamorphosis to don his Armani suit. And the symbolic exchange of identities between Butterfly and Gallimard wouldn't be the same without that regal, white satin cape lined in gold and embroidered with a gold butterfly. As variable as humor across cultures, Hwang's tone in this play can be very tricky to nail down. But TheatreWorks' beautiful and reverent production capitalizes on the humor without losing the many levels of debate beneath it.
M. Butterfly, a TheatreWorks production, plays Tuesday at 7:30pm (except Sept. 12), Wednesday-Friday at 8pm, Saturday at 2 and 8pm (8pm only Sept. 9) and Sunday at 2 and/or 7pm through Sept. 17 at the Mountain View Center for the Performing Arts, 500 Castro St., Mountain View. Tickets are $20-$55. (650.903.6000)
Send a letter to the editor about this story.