August 30-September 5, 2006
home | metro silicon valley index | the arts | books | author profile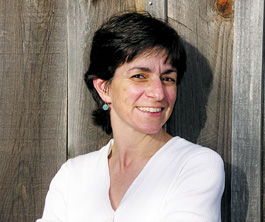 Story Reaper: Editor Persis Karim gathered a wide range of writers for her new anthology by and about Iranian women.
The Sounds Of Exile
SJSU's Persis Karim gathers up the stories and poems of Iranian women émigrés in a new anthology
By Rick Kleffel
'THIS IS a book that is more about a process than a place," says Persis Karim of her new anthology. "At a time when there are men in power eager to go to war, and eager to engage Iran in military conflict, it's essential to give Americans a sense of the humanity of that place. Literature can touch people in ways that other forms cannot."
The power of literature, in all its multiplicity of forms, is evident on every page of Let Me Tell You Where I've Been. This is a collection of writing to be treasured, to be read by bits and pieces, assimilated slowly.
Karim, an associate professor of English and creative writing at San Jose State University, will appear with contributors Farnaz Fatemi, Sanaz Nikaein, Mojdeh Marashi and Shadi Ziaei at the Dr. Martin Luther King Jr. Library in San Jose, on Aug. 31 at 7pm, for an event presented by the Commonwealth Club of Silicon Valley. It will be a rare chance to hear the voices behind the words, to hear the words as spoken by the women who wrote them.
Karim's collection runs the gamut of literary expression. Poetry, essays, short stories and journalism collide with excerpts from novels and autobiographies. Karim's artistry as an editor is to bring together a collection that captures the process that is the Iranian Diaspora and the country itself, a bundle of contradictions that defies easy summary. Open the book to any page, and you will find it difficult to leave; the writing is everything that makes up all of our lives, seen from a perspective that few of us can imagine.
"As a child growing up in the United States, I was often asked, Where was I from?, because I had a foreign-sounding name and looked different from many of my peers," Karim recalls. "I looked for people like me in books, in films—you know, people of multiple heritage, and there just weren't very many. From this search for answers, the first anthology I edited, A World Between: Poems, Short Stories and Essays by Iranian-Americans, was born."
It was not to be the end of her literary journey: "People continued to send me their poems, stories, and asked, Will you be putting together another anthology? It wasn't really my intention, but I decided to put together Let Me Tell You Where I've Been. Women are interested in representing themselves because there are so many people manipulating the image of 'Iranian women' to serve some sort of political agenda. This is a moment when women see the urgency in representing themselves and complicating the notion of what it means to be an 'Iranian or Iranian-American' woman."
The resulting collection is hard to put down. Karim's contributors offer precise, passionate glimpses into both their country of origin and their own souls. The work is divided into sections, including one that directly confronts the rhetoric about the "Axis of Evil."
"I felt a real sorrow about language like that entering the public discourse," Karim says. "This is the real evil in the word: the abuse of language and power."
Let Me Tell You Where I've Been demonstrates a rather different power of language: the power to peer into the souls of those whom we perceive to be very different, alien, and there find the beauty of words we can understand, that can enter our souls.
Let Me Tell You Where I've Been: New Writing by Women of the Iranian Diaspora; edited by Persis Karim; University of Arkansas Press; 400 pages; $24.95 paper
Persis Karim appears with Farnaz Fatemi, Sanaz Nikaein, Mojdeh Marashi and Shadi Ziaei on Thursday, Aug. 31, at 7pm at the Dr. Martin Luther King Jr. Library, 150 E. San Fernando St., San Jose. Tickets are $5. (800.847.7730)
Send a letter to the editor about this story.