August 30-September 5, 2006
home | metro silicon valley index | the arts | books | review
Reeling Through Hollywood
REVIEW (By Dan Bessie; Blue Lupin Press; 353 pages; $22.95 paper)
By Richard von Busack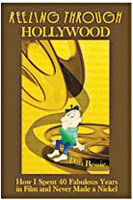 Life happens at a different speed to people who don't plan it out in advance. Ex-Santa Cruzan Dan Bessie proves that with his CV: merchant seaman, hydraulic valve tester, counselor at YMCA camp, longshoreman, smutty poster illustrator, sign painter, bowling alley pin monkey, and finally $36.45-a-week hired hand under Hanna and Barbera at MGM. Then came Bessie's longest gig: pre-John Pierson indie filmmaker. He directed the locally filmed
Hard Travellin'
, based on his father Alvah Bessie's novel,
Bread and a Stone
. Unlike his blacklisted father, Dan is willing to name names: getting inappropriate attention from Will "Granpa Walton" Geer, fetching some cancer-soothing whiskey for Robert Ryan during the making of
Executive Action
; dating Donna Michelle, "first Playmate in Space" (the crew of
Gemini X
smuggled her foldout aboard); directing former Yellow Brick Road-warrior Ray Bolger and loafing with Jane Fonda (whose ex, Ted Turner, currently owns
Hard Travellin'
). If that wasn't enough, Bessie helped assemble the earliest Marvel cartoons for TV. Rueful and consistently amusing as it is, this memoir is more evidence that financial success is just plain vulgar compared to the pricelessness of a wanderer's career.
Send a letter to the editor about this story.