August 30-September 5, 2006
home | metro silicon valley index | movies | current reviews | film review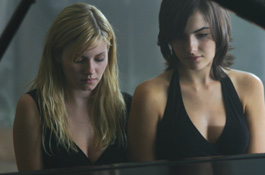 Ari Brikman, courtesy of Sony Pictures Classics Inc.
Duet: Elisha Cuthbert (left) and Camilla Belle commune at the piano in 'The Quiet.'
Incestual
'The Quiet' is a step up for director Jamie Babbit but a step down for Edie Falco
By Richard von Busack
AN ARTIST'S ambition deserves to be complimented. The widescreen high-definition images that photographer M. David Mullen provides for Jamie Babbit in The Quiet are a real step up for this indie director. The purplish blues (the color that seems to work best in HD) are deeply saturated for such a cost-effective medium, and the color is never milky or streaky. At times, Mullen and Babbit overdo the murk, as when a woman is washing dishes, and the main light source seems to be coming right out of the drain—is it one of those combo garbage disposal/halogen lamps we saw in the Sharper Image catalog? Mainly, The Quiet gives the impression of taking place in two worlds: either in the social-torture chamber of a high school cafeteria or in a haunted minimansion, seen in midrenovation, shrouded with clear plastic. The Deer family's home has all the warmth of a joke-shop ice cube.
As in But I'm a Cheerleader, Babbit wants to replay the balance between strife and attraction in fluffy blonde and black-haired companion. This time, it's not as gay-movie burlesque but noir drama. In affluent Connecticut, a dysfunctional family is imploding. The spark in the powder keg comes with the (very underwritten) arrival of a deaf-mute orphan named Dot (Camilla Belle). A foster daughter, Dot finds herself eclipsed by the sun in the house: namely, the golden-haired cheerleader Nina (Elisha Cuthbert). Nina is vindictive and privileged, but she's in torment. She is secretly having a torrid affair with her father (Martin Donovan). Her mother, Olivia (Edie Falco), gaga from pharmaceuticals, seems to have either missed or tuned out the incest. The role is savagely underwritten, leaving Falco dangling, motiveless, for much of the movie. Nina's best friend, Michelle (Katy Mixon), is a lewd narcissist. Dot, as silent witness, as ambiguous companion, accelerates the tensions in the house. She brings it all down without really saying a word.
Unsure whether to salute Persona or Johnny Belinda, Babbit packs in a few skin-crawling moments. The thick-lipped Donovan—a Slim Fasted version of Laird Cregar—is a real queasiator. And so is Nina's whispered description of what gets her father off. Some newspaper hacks will be calling Belle the go-to girl in incest movies, since this young actress was expert miming sexual and emotional tensions in The Ballad of Jack and Rose. Belle nearly carries The Quiet in her close-ups, and the matter of whether Dot can understand what's going on around her is tantalizing. By contrast, Dot's tryst with a much-desired teen athlete (Shawn Ashmore, Iceman from X-Men) seems to just be third-act padder. Too bad Babbit, or screenwriters Abdi Nazemian and Micha Schraft, got cold feet about Dot's enigma and loaded in all the voice-over lectures about Beethoven's life in order to show something was going on in the deaf-mute's mind. Belle seems like a promising actress, but whether she is as good as Holly Hunter remains to be seen. Unlike Hunter in The Piano, Belle isn't allowed to signal her emotions with music and expression alone. Instead, she mentally addresses the audience with continuous interior yammer.

The Quiet (R; 91 min.), directed by Jamie Babbit, written by Abdi Nazemian and Micah Schraft, photographed by M. David Mullen and starring Elisha Cuthbert, Camilla Belle and Edie Falco, opens Sept. 1.
Send a letter to the editor about this story.