09.02.09
home | metro silicon valley index | columns | silicon alleys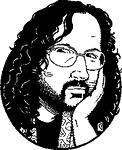 Silicon Alleys
KFJC Celebrates 50 years
By Gary Singh
NEXT MONTH, KFJC-FM (89.7), that rabble-rousing station at Foothill College, celebrates its golden anniversary. At 8pm on Oct. 20, 1959, station manager Bob Ballou uttered the first words ever on that station, broadcasting from a broom closet at the old Foothill campus on El Camino Real in Mountain View. There exists no recording of what he originally said, but Mr. Ballou will be back on the air on Oct. 20 to mark the 50th anniversary.
The station has staged celebratory endeavors all year long. DJs from 30 years ago are returning for special fill-in shifts. Listeners are donating vintage fliers, stickers, program guides, posters, recordings and news articles for the archives. The fandom comes to an apex this Friday, when an art show, "Blowing Minds Since 1959: A Retrospective of the Art and Culture of KFJC," opens at the Kaleid Gallery in downtown San Jose (88 S. Fourth St.). A 50th anniversary art and logo contest took place earlier this year, and the winners will be on display, as will many other pieces of memorabilia from the station's sordid history.
I've been a KFJC listener for more than 20 years, because in my opinion the entire purpose of college radio is to play anything the commercial stations wouldn't possibly touch, and in KFJC's case, they've disregarded all standard procedures for decades now. In 1978, four student managers pretty much overthrew the general manager due to his belligerent, unwavering emphasis on mainstream album-rock formatting.
The station then subsequently went on to bring the entire punk/New Wave explosion to the South Bay. Even today, by the grace of God, Satan, Loki, Isis or whoever, you never know what to expect from that station. One day, it'll be Japanese surf music followed by master musicians from Morocco followed by 30 minutes of doom metal. The next day, you'll hear avant-garde jazz, ambient electronica, obscure psychedelic rock and then children's records deliberately played at the wrong speed.
That's right—live human beings actually decide what music is played and those same human beings are allowed to play whatever they want, as long as a quarter of it comes from material added to the station's collection in the last few months. In addition, KFJC features a tremendous amount of "live mics," with independent touring bands showing up on a regular basis to jam in the studio. The station has even broadcast live from England, New Zealand and Japan, where it showcased up-and-coming bands from each of those places. All in all, listeners get a pretty decent peek into the eclectic tastes of each DJ and don't get subjected to the same nauseating "classic" hits, cyclically bludgeoned to death on commercial stations for the last quarter-century.
But I digress. For the KFJC art and logo competition, 20 submissions were received, all of which were submitted by KFJC fans rather than established artists. Andrew Goldfarb took home first place. "The submission form asked, 'How did you hear about the contest?' and every single one was from a listener," said Leticia Domingo, the station's publicity director. "We even had submissions from New Zealand and Australia. I didn't expect that."
Kaleid Gallery, an extension of the Phantom Gallery project, in which artists display their work in empty downtown San Jose storefronts, occupies a city-owned building just north of the Flames Restaurant on Fourth Street. After the previous tenant, an art supply shop, couldn't make ends meet, the city allowed Kaleid to have the space for an indefinite amount of time. Now, the gallery features heavily in the First Friday art events, and the KFJC show invades the place for a month, beginning this Friday.
"It's not that everyone's going to like what we do," says Domingo, "but we're doing what no other noncommercial, nonprofit college radio station is doing. And we've been doing that for a long time."
I replied that, honestly, I wouldn't be the twisted creep I am today if it wasn't for KFJC. "I wouldn't either," she said.
Contact Gary Singh or send a letter to the editor about this story.