09.02.09
home | metro silicon valley index | the arts | visual arts | review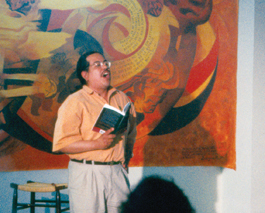 WORDS' WORTH: Early on, MACLA invited important writers to read their works, including an appearance by poet Francisco Alarcón in 1992.
Culture Score
MACLA's 20th anniversary fete leads the way on a busy night of art and happenings for South First Fridays
By Michael S. Gant
THIS MONTH'S South First Fridays event is also a birthday party for one of the mainstays of the SoFA District arts scene. In 1989, the euphoniously named Movimiento de Arte y Cultura Latino Americana, a.k.a. MACLA, was founded—by Maribel Alvarez, Rick Sajor and Eva Terrazas—after concentrated advocacy by activists who wanted San Jose's urban renewal plans to include a commitment to multicultural arts. A physical space on the 500 block of South First Street followed, dedicated to showcasing Latino visual artists, poets and performing groups.
Over the years, MACLA has become a fertile seed bank for both local and international artists. A memorable show in the 1990s, for instance, featured the remarkable painted pâpier-maché figures and skulls of the Linares family, master folk artists from Mexico. More recently, MACLA started its "Chicana/o Biennial," a group show exposing the ideas and visions of young and midcareer Chicano artists.
MACLA puts on about 50 programs annually, among them youth-slam poetry workshops; theatrical residencies by visiting troupes like L.A. dyke performance artists Butchlalis; plays (including a natural collaboration with Teatro Visión); cultural exchanges between artists and writers; a memorable Cholo Film series; a Latino poetry conference known as the Floricanto Festival; and a Spic Core Festival for Spanish-language punk rockers.
A good example of how far out of the box MACLA likes to think came in 2005, when the group helped spruce up the nondescript Laundromat at the corner of Second and William streets and screened movies there. As MACLA's then-director Tamara Alvarado told Metro's Gary Singh: "We started doing focus groups in the neighborhood, and said, 'What d'ya all wanna see in your neighborhood?' and how can we serve as a connector between the different types of residents that live [here] now as opposed to 10 years ago?"
MACLA's shows have always aimed to be provocative, frequently dealing with the flash points of the U.S./Mexican border, the immigration debate and identity politics. Two of the edgier artists to show at MACLA are the glass-blowing de la Torre brothers, whose shows in the '90s did a lot to establish their burgeoning reputations. This Friday sees the opening of their latest exhibit, "La Reconquista," for which MACLA commissioned a mixed-media installation that tackles on many fronts the whole idea of what it means to conquer and be conquered, starting with Cortes and the Aztecs and moving right on up to globalization.
This busy night for MACLA starts at 6pm and includes a performance by the L.A. Chicano-rock band Quetzal, hands-on activities, the Aztec dancers Movimiento Cosmico, martial arts with Vo Vi Nam and the African drumming of Jaliya.
The rest of First Fridays promises to keep South First Street hopping. Anno Domini holds a reception for Sam3, the Spanish artist known for fashioning huge silhouettes on the sides of buildings. For "Exsitu Insitu," he will create a one-of-a-kind installation on the walls of the gallery. On the street, Anno Domini hosts the Street Mrkt, a.k.a. D.I.Y. Urban Fair, with music by San Jose's Corpus Callosum (7:30pm), Ferocious Few (8:45pm) and LINKS (10am).
For its part, Caffé Trieste welcomes the figurative female portraits of Susan Babbel with vocal selections by members of Opera San José. South First Billiards Club & Lounge mixes up rock, live painting and roller girls. Slave Labor Graphics keeps up the spirit of the walking dead begun at last's week's zombie walk with a show called "The Art of the Zombie Apocalypse." Why? Well, because when they finally slake their thirst for blood, the zombies will make some art; Quasimodal provides some jazz accompaniment for the group exhibit.
South First Fridays also provides a chance to check out the new Art Class Center of San Jose (465 S. First St.) and the yoga art at Downtown Yoga Shala (450 S. First St.) And of course, all the usual suspects—WORKS/San Jose, the Institute of Contemporary Art, the San Jose Museum of Quilts & Textiles and Space47—will participate, along with honorary SoFA District gallery Kaleid (88 S. Fourth St.), which salutes KFJC's 50th anniversary (see story on page 8).
SOUTH FIRST FRIDAYS takes place Friday (Sept. 4), all evening along South First Street in San Jose. See www.southfirstfridays.com for details. (Full Disclosure: Metro is a media sponsor of the event.)
Send a letter to the editor about this story.