09.02.09
home | metro silicon valley index | music & nightlife | band review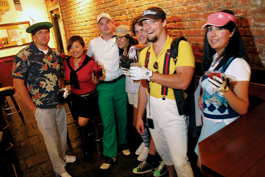 Photograph by Felipe Buitrago
ON THE LINKS: A nattily dressed group of pub-crawling 'golfers' tee up at Mission Ale House in San Jose.
Pub Crawls
By Colleen Watson
I WENT out last Friday with some friends who were doing "beer golf." Each bar was a "hole," and par was one drink, a birdie two, an eagle three and a hole-in-one four drinks. (My best was an eagle.) You also had to drink using only your hand encased in a golf glove, and you got strokes added for water hazards (glass of water). We also dressed up in the gaudiest golf gear and were loud and obnoxious as we cheered each other on or yelled at other teams.
Sometimes it's just fun to change up your normal drinking routine. And the South Bay is perfect to set up any type of pub crawl be it themed or just a bunch of people looking to hit a bunch of bars in one night (we had designated drivers and places to crash within walking distance, and I suggest you plan ahead).
There's Santa Cruz Avenue in Los Gatos, where you can hit up #1 Broadway, the Black Watch, Los Gatos Brewing Company, Double D's Sports Grille, Mountain Charley's Saloon and Tommy's of Los Gatos (there are more if you're willing to really hoof it).
Palo Alto's University Avenue is another prime spot with Nola, the Rose and Crown Pub, Rudy's Pub and the Old Pro to name a few.
Mountain View's swanky Castro Street has some fun hot spots, such as Cascal, Kapp's Pizza, Molly Magee's Irish Pub, St. Stephen's Green, Tied House and Zen Lounge.
As for San Jose, head to Santana Row and, well, just walk around. And for downtown San Jose, San Pedro Square, Santa Clara Street, First Street and Second Street won't lead you astray.
With Google maps and a little bit of planning you can find many good pub crawls in the South Bay.
Send a letter to the editor about this story.