08.26.09
home | metro silicon valley index | silicon valley restaurants | review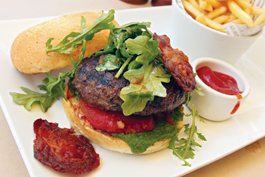 Photograph by Felipe Buitrago
BURGER ROYALE: LB's Riviera burger is a juicy, high-end version of a classic.
Meat of The Matter
With upscale comfort food, Roland Passot turns Tanglewood into LB Steak
By Stett Holbrook
SANTANA ROW'S Tanglewood restaurant has morphed into LB Steak. Both past and present establishments are the work of Roland Passot, the French-born chef behind the Bay Area's three successful Left Bank restaurants (LB—Left Bank. Get it?). I'm not sure why Tanglewood folded, but somehow, the restaurant's take on seasonal American fare made from local ingredients didn't resonate. I liked the place, and I liked it better than its replacement. I'm a sucker for shoutouts to local farms and seasonally hinged menus, because I think they encourage us to think about the source and rationale for the food on the plate.
As Passot tweaked the concept for the restaurant, he stripped away those seasonal and more interesting elements, kept some of the American standards (iceberg lettuce salad, lobster roll, grilled salmon), upped the number of steaks and burgers, applied a thin veneer of Frenchiness and added a few pasta dishes to make sure all the bases were covered. The result is yet another purveyor of upscale comfort food, something Silicon Valley already has in large supply. While the new venture has its attractions, the effort to appeal to a wider audience has dulled LB Steak down. It's pretty good, but pretty forgettable, too.
A few changes to the visual landscape were made. The chef's table was moved to the sidewalk side, and the lobby is more loungelike. Chandeliers were hung. The dark-wood interior is still handsome. The outdoor patio and cozy bar tucked into one corner are just as appealing as before, while the contrast of the stainless-steel kitchen and cooks dressed in starched whites emits a bright glow at the back of the restaurant. The kitchen entrance still has those automatic sliding glass doors, minus the stripes. I imagine they burst open with a Star Trek "shushk" every time someone approaches. The doors allow the restaurant to have both an open kitchen and an open front that would otherwise be prohibited under health codes.
Starters are a mixed bag. The escargot ($15) packed into the shaft of a beef-shank bone with plenty of fatty marrow goodness and laced with Pernod-accented garlic butter is a creative take on the French bistro standard. Standing upright on the plate, it looked cool, too. The plump and wonderfully fresh seared scallops ($14.95) were expertly crisped outside and juicy inside. The dribble of chanterelle mushroom butter sauce played off the savory richness perfectly. The strangely pale, salty-savory French onion soup ($6.95) is winner, too.
The iceberg wedge salad ($8.50) is topped with thick bacon, sliced red tomatoes and a creamy dressing made from Pt. Reyes blue cheese. It's good enough but doesn't stand apart from similar versions available elsewhere. The heirloom-tomato salad ($9.50) was good, with a purée of avocado hiding underneath piquant arugula.
Dijon mustard–braised pork belly with smoked tomato jus ($9.95) sounded good on paper but ended up tasting like a hulking piece of pork with a sweetish barbecue sauce.
While LB Steak aims to be a Franco-tinged steakhouse, there were five seafood choices on the dinner menu when I visited. The slow-roasted sea bass ($26.75) served with an appealing jumble of squash and tomatoes and a dollop of pistou (the French version of pesto) is a simple what-you-see-is-what-you-get dish. That means it was good and well prepared, but I forgot about it the minute it was gone. I was glad to see the lobster roll ($19.50) is still on the lunch menu. It was a standout at Tanglewood, and while the mayo was applied a little too heavily, the roll still makes a satisfying sandwich.
Beef comprises half of the menu. The prime-cut steaks come with a choice of sauce (green peppercorn, red wine, horseradish cream, etc.). The 12-ounce rib eye ($29.50) was cooked to my specs and flavorful and juicy and all that, but after a few bites became just another steak, the likes of which you can get at a half-dozen places within 15 minutes of LB Steak. I liked the 8-ounce skirt steak ($23) better. Not only is it cheaper, but I think the thinner, equally tender cut of beef produces a richer, beefier flavor.
LB Steak serves a number of fancy burgers with premium ingredients. I don't mind paying more for a well-crafted burger, and my "Riviera" burger ($12.75) was just that. Topped with pancetta, arugula, a thick slice of tomato and a swipe of pistou and served on a well-toasted bun, it was certainly gussied up but was still an honest and thoroughly satisfying burger. Both the shatteringly crisp yet somehow greaseless onions rings ($3.75) and slender, golden pommes frites scored as well.
In contrast with the mixed quality of the food, service at both my visits was top-notch. I had the same waiter both times, and he knew the menu well, paced the meal perfectly and seemed to glide to the table just when we needed him.
Desserts are fine but nothing special. I liked the buttery chocolate éclair ($7) best. The berry cobbler with vanilla gelato and raspberry Madeleine (both $7) will satisfy a sweet tooth in a pinch. Sometimes, a satisfactory, not bad, perfectly fine meal is OK. But when I spend $25 or more on an entree, I want something more, and at LB Steak not bad isn't good enough.
---
LB Steak
Address: 334 Santana Row, San Jose.
Phone: 408.244.0464.
Hours: Lunch 11:30am–5:30pm Mon–Fri and dinner 5:30–11pm Mon–Sat, 5:30–10pm Sun. Brunch 11am–5:30pm and 10:30am–5:30pm Sat.
Cuisine: Steakhouse.
Price Range: Entrees $12.50–$39.95.
Web: LBSteak.com.
Send a letter to the editor about this story.