09.02.09
home | metro silicon valley index | movies | current reviews | film review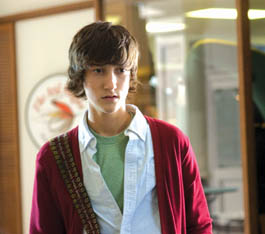 Courtesy Magnolia Pictures
WORLD'S WORST KID? Daryl Sabara plays teen Kyle, who gains a golden reputation after the fact in 'World's Greatest Dad.'
Fatherhood
Robin Williams nurses a surprising legacy for his weird kid in Bob Goldthwait's black comedy 'World's Greatest Dad'
By Richard von Busack
ANY CLASS CLOWN or other form of wise-ass had the unworthy thought that Anne Frank's good qualities were probably exaggerated by her grieving father. But it shows some real skill to take that idea and turn it into a crafty, ruefully funny movie. That's what director Bobcat Goldthwait has done in World's Greatest Dad. It's a bracing comedy of taboos. The main character is a foul, mean and thoroughly creepy teen, a lumpy goblin version of Paul Dano called Kyle (Daryl Sabara), whose most cherished thoughts are of anal sex and auto-erotic asphyxiation. His beaten-down, sensitive father, Lance (Robin Williams), is a failed writer and a high school teacher in the suburbs of Seattle, trying hopelessly to instill a sense of the better life in his handful of squirrelly, plagiarism-crazed students. And Lance is also in a clandestine and unconsummatable thing with a fellow teacher, Claire. Alexie Gilmore has the part of Claire, and she runs with it. She has one of those wide ambiguous mouths, turning in both directions at once; you can't tell if she's smiling or sneering.Lance's hopeless demands for affection from Kyle are thwarted, right up to the point when he finds the boy dead from his own decadence. Weeping, Lance tries to disguise his son's death as the suicide of a sensitive outcast. The plan works alarmingly well. Kyle's shocked fellow students had never realized how deep the boy was, and they urge Lance to find more of the late Kyle's writings, which Lance quickly fabricates, making both father and son a hero. Only Kyle's friend Andrew (Evan Martin, excellent) suspects that there's something wrong with this picture: Surely Lance's diary would be full of his usual XXX adult porno fixations?
Goldthwait is a brave nonconformist, directing with the assurance this deep-black comedy will find people who'll love it. The rapid skewering of John Hughes' The Breakfast Club will be solace to those who had to repeatedly hear all about the generation-defining brilliance of Hughes. But Goldthwait is shakier on building an environment. The references to crap cinema (a blink-and-you-miss-it ref to the Johnny Cash exploitationer Door to Door Maniac, for instance) don't seem like they'd be part of Lance's world. Is he a literary man or a failed screenwriter? Still, Lance's preoccupation with zombie movies, as my colleague Mike Monahan has observed, mirrors the bunker experience of Lance surrounded by zombielike normals. The cinephilia angle of World's Greatest Dad, as always, is a way to make a morally dubious character like Lance likable to movie watchers. But when Lance starts out going to a mall movie and ends up at an art house showing a double bill of His Girl Friday and Freaks, it's evidence of Goldthwait not making the best use of a suffocating suburban atmosphere. A guy like Lance shouldn't have even this avenue of escape—the escape that genuinely good movies provide.
Here, Williams has a chance to do some of the most integral, gentle and praiseworthy acting of his career. The now-notorious final scene of stripping—recalling the finale of Milos Forman's Taking Off—justifies itself as a lyrical moment of new-found freedom. And the epigram that Goldthwait uses to close off this comedy is very quotable (but it's a spoiler if you quote it). Sabara, the veteran of three of Robert Rodriguez's candy-coated Spy Kids movies, does manful, hilarious acting. Kyle is a really terrible kid, but he never seems like a caricature. Kyle was accidentally caught in a weirdly sensitive pose in a school photo; the camera returns to this photo, which keeps getting funnier with each new viewing. The photo is also a rebuke to those who see mercurial, troubled teenagers in just one way.
Similarly, Goldthwait wasn't just another comedian of the 1980s. It's wrong to hold against him what he did for the truckloads of money that studios dumped on his lawn—what even Goldthwait calls the "Police Lobotomy" series is ancient history. People who justifiably recall the wonderfulness of Pee-wee Herman ought to similarly remember Goldthwait's own persona, a Southern California Raskolnikov, trembling with some brain fever. He was the real thing as a comedian, and he's the real thing as a director.

WORLD'S GREATEST DAD ( R; 99 min.), directed and written by Bobcat Goldthwait, photographed by Horacio Marquínez and starring Robin Williams and Alexie Gilmore, opens Sept. 4.
Send a letter to the editor about this story.