09.02.09
home | metro silicon valley index | music & nightlife | band review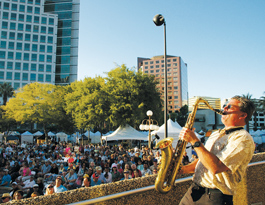 LEISURE SOUNDS: A sax player serenades the crowd at the Tapestry Arts Festival.
Labor Day
THE END OF SUMMER brings the consolation of a three-day weekend full of outdoor activities. The big dog for the end of the dog days is San Jose's Tapestry Arts Festival, whose roots go all the way back to 1976. The three-day affair shifts its footprint a bit this year, moving eastward into Plaza de Cesar Chavez. The family-friendly event features music on the Plaza Stage, plenty of arts-related fun stuff for kids, and food and crafts booths.
On Saturday, the South Bay Guitar Society will fill the KGO Stage with classical guitarists, starting at 10:30am. Monday's San Jose Rocks/KFOX presentation starts early (10:15am) with Black Pearl and ends midafternoon with the Groove Kinds. Some of other standout performers are Nitecry (Sunday at 1:45pm), Wally's Swing World (Monday at 12:35pm) and singer Jamie O'Neal (Saturday at 2:15pm). One unusual addition this year is the Trash Art Fashion Show. Local youth have contributed fashion ideas using recycled and discarded materials. The winners will be unveiled on Sunday at 12:45pm.
TAPESTRY ARTS FESTIVAL takes place Sept. 5–6, 10am–6pm, and Sept. 7, 10am–5pm, in downtown San Jose. Admission is free. (408.494.3590 or www.tapestryarts.org)
Labor Day Events
Begonia Festival
This "Capitola Takes Flight" themed nautical parade of begonia-festooned floats on Sunday is a beachside tradition. The best viewing Starts Sunday at 1pm from Cliff Avenue, Wharf and Stockton roads. Sep 4-7, all day; free. Capitola. 831.475.6522.
Kings Mountain Art Fair
A three-day outdoor exhibition featuring fine arts and crafts in a redwood forest. Sat-Mon, Sep 5-7, 10am-5pm. Free. 13889 Skyline Blvd., Woodside, 650.851.2710.
Scottish Highland Gathering and Games
Featuring First Battalion Scots Guards and U.S. Marine Corps, sheep dog trials and highland dancing. Sep 5-6, 9am-6pm; $17-$25. Alameda County Fairgrounds, 4501 Pleasanton Ave., Pleasanton.
Great Train Robberies and Shootouts
Plus other re-enactments by notorious outlaws. Sep 5-6. Roaring Camp Railroad, Graham Hill Road, Felton. 831.335.4484.
Millbrae Art and Wine Festival
Live music, arts and crafts, dragon dancing and taiko drums. Sep 5-6, 10am-5pm; free. Broadway Avenue, downtown Millbrae. 650.697.7324.
Ardenwood Rail Fair
Explore local railroad history, visit rail and hobo camps and see model railroads in action. Sep 5-7, 10am-4pm; call for prices. Ardenwood Historic Farm, Fremont. 866.417.7277.
Labor Day Weekend Fireworks
Sep 6, evening; free with admission. Paramount's Great American, 4701 Great America Pkwy, Santa Clara. 408.986.1776 x8858.
Labor Day Grill and Chill
A day of family, food and entertainment. Sep 7, 10am-4pm; free. Calvary Church, 16330 Los Gatos Blvd., Los Gatos. 408.356.5126.
Send a letter to the editor about this story.