09.02.09
home | metro silicon valley index | the arts | stage | review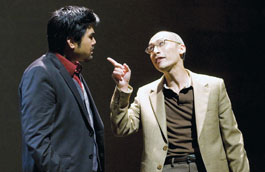 Photograph by Mark Kitaoka
GENERATION GAP: D.H.H. (Pun Bandhu, left) jousts with his father (Francis Jue) in 'Yellow Face.'
Identity Drama
Playwright David Henry Hwang explores Chinese-American roles in TheatreWorks' 'Yellow Face'
By Jessica Fromm
REALITY OR FICTION? Asian or Caucasian? Drama or comedy? Stereotype or racial truth? Yellow Face is a rousing backstage look at theater culture and politics that asks deep questions about all of these issues. This powerful new TheatreWorks production uses scathing narrative to explore playwright David Henry Hwang's own personal struggles with his Chinese-American heritage, and where, if anywhere, race fits into contemporary culture. Though the material is too topsy-turvy at points under its own witty, rapid-fire delivery, overall this fact-based lampoon of cultural and national identity has heart, and thankfully never plays it safe theatrically.
The play picks up as angst-ridden D.H.H. (Pun Bandhu), author of that late-'80s Tony Award–winning M Butterfly, searches for a new project to fulfill himself artistically. After learning that white Welsh actor Jonathan Pryce has been cast as a Eurasian in the Broadway production of Miss Saigon, he spearheads an uproar over the decision, accusing the theater community of "yellow face." But as D.H.H. starts casting his own new stage offering, he finds that tracking down a masculine male Asian lead is harder then he imagined. At the last minute, he brings in non-Asian actor Marcus Dohlman (Thomas Azar) to fill the role while under the mistaken assumption that the young man has Asian ancestry. All the while, D.H.H.'s Rat Pack–obsessed banker father (Francis Jue) chimes in over the phone and in person, hinting that D.H.H. should leave theater behind for the financial world and the American dream.
Yellow Face hits its high-speed stride as D.H.H. scrambles to conceal the truth of his leading man's bloodline, labeling Dohlman a Jewish Siberian to cover his own miscasting. Later, Marcus carves out a name for himself as an "Asian" actor, and to Hwang's horror, plays the lead in a hit "authentic" production of The King and I. However, when D.H.H.'s father is accused of spying for Red China, and a journalist with his own agenda comes calling, both men must discover where their true identities lie.
The father/son relationship is truly the heart of this play, and it's no wonder that Broadway-famed actor Jue has won an Obie Award for this stirring role. As the cast took their bows to the tune of Coldplay's "Yellow" on opening night, the crowd roared and applauded for Jue especially. Still, though the play confronts racial stereotypes, actor B.D. Wong (who had the starring role of Song Liling in M. Butterfly) is portrayed with a disconcerting degree of limp-wristedness by Jue. This is a satire though, and Hwang is willing to mock his own hypocrisy, too. In one sequence D.H.H. is ripping on the hardships and subconscious racism that the Chinese community faces; the next, he's in a guffaw-inducing scene being recognized while renting Asian porn.
The small cast in Yellow Face play an astonishing number of roles each. They include Bay Area theater veterans Howard Swain, Robert Ernst and Amy Resnick, along with newcomer Tina Chilip. Under the masterful hand of founding artistic director Robert Kelley, they switch races, sexes and voices with the flash of spotlights on the simple, tasteful multilevel stage.
YELLOW FACE, a TheatreWorks production, plays Tuesday–Wednesday at 7:30pm, Thursday–Friday at 8pm, Saturday at 2 and 8pm and Sunday at 2 and 7pm through Sept. 20 at the Mountain View Center for the Performing Arts, 500 Castro Street. Tickets are $24–$62. (650.463.1960)
Send a letter to the editor about this story.