09.03.08
home | metro silicon valley index | columns | silicon alleys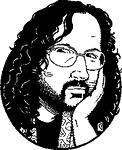 Silicon Alleys
Ornery Ennui
By Gary Singh
WE OFTEN HEAR examples of inferiority hang-ups when people from San Jose visit a more celebrated city. It's the "Why can't we have this in San Jose?" complex. You hear this all the time. People usually say or think such things whenever they come back from having a good day on the town in San Francisco, Santa Cruz, Monterey, Carmel or La Honda. Whenever they visit a distinctive world-renowned place, they come back frustrated and depressed because their hometown will never be as awesome as those other locales.
A damning but not-too-far-off analysis might be that these people basically have a pathological lack of self-worth, an eternal dissatisfaction, not just with the city of San Jose, but with themselves and with life in general—the epitome of suburban apathy. Since I've harbored such wasteful thoughts off and on for years, at least now I manage to laugh at myself whenever they emerge. One particular time about eight years ago, over way too many drinks, I even coined a lyrical term to describe them: ornery ennui. Say that one five times fast if you're apathetic. Whichever syllable you place the emphasis on, it just has a good roundabout kind of flow to it. (In fact, you can just picture two old French dudes with large gray mustaches, carrying on in a Paris cafe, raising their eyebrows and waving their hands to the rhythm of their speech while discussing the plays on words: Do you have ornery ennui, Henri?)
But I digress. This has only now come up again because I am temporarily off to extracurricular business in Kansas City, Mo., where I will be apathetically situated as you read this. You see, Kansas City—otherwise known as The Heart of America, the City of Fountains, the Paris of the Plains or the Jazz Capital of the World—provides a simultaneously pleasant and furious launching pad for any conversation centering on the "Why can't we have this in San Jose" complex. But this can be fun if you just get creative about it.
For example, legendary jazz saxophone pioneer Charlie "Bird" Parker is one of Kansas City's most favorite sons. Parker forever revolutionized jazz by essentially taking swing and adding zonked-out multinote improvisatory pyrotechnics that would eventually cross over into the Beat literary movement. Like any world-class city would do, Kansas City immortalized him with an epic 17-foot-tall bronze statue of his head, designed by Robert Graham—that's right, the same artist who designed the poop statue in Plaza de Cesar Chavez. They got Bird, we got poop.
Also in Kansas City, America's 39th largest city with a population of 450,000, one finds a raging monthly event called First Fridays in the Crossroads Arts District, an entire mile-wide neighborhood where more than 60 art galleries and eclectic shops stay open late. It has become one of the nation's largest art walks.
Studios, galleries, coffeehouses, salons, theaters, retail units, banks, residences and just about every imaginable configuration that would lend itself to displaying artworks join together on the first Friday of the month. Restaurants have specials and thousands descend upon the neighborhood, which began as a grassroots effort by local artists who worked with the city to convert old buildings into galleries and live/work studio spaces. And now artists of all disciplines—photographers, architects, graphic designers, furniture makers and more—comprise an overwhelming majority of the live/work population.
San Jose's First Fridays event should not be slighted, of course not, as they've accomplished much in a short amount of time. But I really do wish we had Kansas City's version. As a result, I have no other choice but to continue this dissemination next week. Part two will recap the September First Friday event straight from the Heart of America.
Contact Gary Singh or send a letter to the editor about this story.