09.03.08
home | metro silicon valley index | the arts | visual arts | review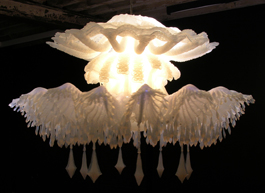 JELLY ROYAL: Timothy Horn's giant 'Medusa' dominates the Focus Gallery at the San Jose Institute of Contemporary Art.
Nature Upended
The San Jose Institute of Contemporary Art shows varied approaches to science and scale—from a giant jelly to victory gardens in every flower box
By Michael S. Gant
IN A ROOM all to itself, Timothy Horn's marvelous Medusa installation at the San Jose Institute of Contemporary Art reorders our sense of place in the natural scheme of things. Is this glowing, waxy creature that looms just overhead a jellyfish grown to immense proportions? Or have viewers been subjected to an Incredible Shrinking Man effect?
Fashioned from silicone rubber, this spectral floater sprouts 16 rippling tubes ending in blind feeding orifices. The beast is topped with a fringed mantle frozen in midundulation; pendulous tear-drop shapes make it resemble some deep-sea chandelier illuminating the Marianas Trench. A soft light emanates from deep within the creature's foliated innards.
This Medusa evokes not so much the living jellies at the Monterey Bay Aquarium as the amazing scientific illustrations of the German biologist Ernst Haeckel (1834–1919), whose evolutionary theories ("ontogeny recapitulates phylogeny") have been overshadowed by the plates in his book Artforms of Nature. His lithographic prints, especially of underwater denizens, although recorded from field observation, seem to be as fantastical in their intricate tangles of tentacles, their dazzling profusion of symmetrical appendages, as any fever dream concocted by H.P. Lovecraft.
Horn likes to put unusual materials to work in sculptures that disorient viewers' perceptions. On display currently in the de Young Museum in San Francisco, Horn has evoked the life of California sugar heiress Alma Spreckels by constructing a full-size sedan chair in crystallized rock sugar.
A different kind of retro-scientific vision occupies the front window of the gallery for the Night Moves installation Polarity Convergence by Jessica Miller. Within a foil-covered display that recalls a high school science-fair exhibit, pieces of '60s vintage recording equipment alternate with video screens.
The control boards, with their analog pots, the UHF receiver with antennae that look like bank pens in holders and the reel-to-reel tape player would serve perfectly as a space-ship console in an Ed Wood movie. The various video monitors broadcast odd flotsam from some other dimension while men in lab coats juggle geometric solids, perhaps revealing the secrets of the universe if only we knew how to interpret them—although the dangling wires hint that full communications have been severed.
SJICA also plays hosts to samples of works by a dozen recent winners of the Eureka Fellowship award. This cash-heavy acknowledgement of artistic merit comes with the imprimatur of more than three score Bay Area visual-arts groups.
It's reassuring to know that after all these years that decidedly nonmainstream filmmaker George Kuchar has been acknowledged as a kind of local treasure. For many decades, George and his twin, Mike, have been trolling the outer reaches of cheaper-than-cheap cinema, 8 mm cameras in hand. Born in New York, George Kuchar long ago moved to the congenial boho environs of San Francisco to make cheeky, cheesy camp films whose subjects and style can be easily discerned from their titles: The Naked and the Nude, A Town Called Tempest, Hold Me While I'm Naked and Sins of the Fleshapoids.
For this show, the gallery offers Ancestral Antics, a DVD about Kuchar, who just turned 66 last week, making his rounds of San Francisco, petting his cat and scouting locations for yet another shoestring epic. A better intro to his work can be found by trolling YouTube; check out his 1977 five-minute-45-second masterpiece Wild Night in El Reno, filmed through the window of an Oklahoma bargain-basement motel in the midst of a lightning storm and scored to some painfully perky samples from a bedside radio and the ticking of an alarm clock. From daytime vistas of wind-blown fields through a nighttime hell of apocalyptic storm to a morning-after of rainbows, the film is a miniature replication of the human experience.
In his large oil paintings, Chester Arnold of Sonoma applies classic easel techniques to troubling images of nature defiled. Road to Paradise shows what might have been a pristine rivulet blocked with the cast-offs of a disposable consumer society: a roll of turf, a tire, the junk mail from a trashed mail box, an old boot, even an abandoned piano. A geyser of foamy water explodes over this trashscape. In a witty bit of finger pointing, Arnold has included an artist's portable paint set with little rounds of pigment exposed.
Paul Kos takes painting into a realm of multimedia. His two canvases—fairly standard abstracts done in a tastefully limited palette—are illuminated from behind with videos. Rippling waves parallel and animate the big curving brush strokes on the surface in one; in the other, ghost images of tree tops rise about a simple field of short horizontal paint strokes.
In an overtly political vein, muralist Rigo 23 shows a large unframed canvas hanging nailed to the wall. Depicting a line of police watching a burning squad car, it references a two-day protest in 1991, during the first Gulf War, when antiwar activists managed to shut down the Bay Bridge. The unstated message is: Why the hell can't we get that worked up about the war in Iraq?
Lourdes Portillo has fun with America's obsession with migration in a video loop that features the Chicano comedy troupe Culture Clash interspersed with wince-inducing examples of ethnic stereotyping on TV and news footage of immigration raids; stick with it long enough to see "Neil Diamante" sing a twisted version of "Coming to America."
Less explicable is Mads Lynnerup's video, which depicts an apparently driverless car rolling along some empty west Oakland streets. Only by reading the wall text was I able to learn that the video represented a practice initiated by black drivers to avoid being pulled over by police prone to racial profiling. Given the political free-fall in Oakland these days, the video suggests a slightly different metaphor—the city itself seems to be without effective leadership, e.g. headless. The video is accompanied by some desultory pen sketches of cars.
In Victory Garden 2007+, Amy Franceschini, who has long combined art and ecological action, documents an idea for modern-day victory gardens in San Francisco. These food-bearing urban fields would help feed people pinched by the current economic downtown, in an echo of and an homage to the victory gardens of the two world wars. The piece comes in two parts: a poster explaining the process and a citrine displaying wooden boxes holding ID tags and two racks of small test tubes full of the seeds necessary to start a plot. These tidy boxes appeal to the collector's mania for a whole world in a small space.
TIMOTHY HORN: MEDUSA runs through Sept. 24; JESSICA MILLER: POLARITY CONVERGENCE runs through Oct. 17 and EUREKA! runs through Sept. 20 at the San Jose Institute of Contemporary Art, 560 S. First St., San Jose. (408.283.8155)
Send a letter to the editor about this story.