09.03.08
home | metro silicon valley index | silicon valley restaurants | review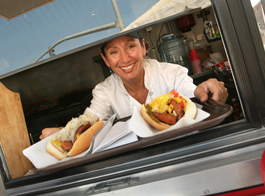 Photograph by Felipe Buitrago
YOU CAME AND YOU GAVE ME A HOT DOG: Amanda Faith Keppert owns Mandy's Korner.
Street Elite
Where to find Silicon Valley's best vendors
By Stett Holbrook
ALAS, Silicon Valley's street food scene is not as well developed as New York City's. Next month, Brooklyn hosts the fourth annual Vendy Awards, a cook-off among New York City's best sidewalk chefs, street vendors (hence "vendy") and itinerant eateries. The awards are a fundraiser for the Street Vendor Project put on by the Urban Justice Center, a nonprofit group that advocates on behalf of New York's approximately 10,000 street vendors. Last year's winner was Thiru Kumar, a.k.a. the Dosa Man.
Silicon Valley has a car culture, not a pedestrian one like the Big Apple, so fast food drive-through is more popular than pretzel carts or hot dog vendors. I'd put the number of street vendors here in the dozens, not thousands. But we do have a few worth seeking out.
Contrary to the "roach coach" perception some people hold about mobile food vendors, these eateries must pass health inspections just like brick and mortar restaurants, and because they're more visible than traditional restaurant kitchens and have less room to work with, it's arguable that they have to do a better job of keeping things fresh and clean. But the real selling point is the food. Since street vendors don't offer much in the way of atmosphere beyond a few chairs or a curb on which to sit and eat, a street cart survives on the quality of its food. Serving meals on wheels means lower overhead and lower prices, too.
Taco trucks are probably the best known—and best-loved—street foods in these parts. I've written about several of my favorites before so I thought I'd focus on a few other kinds.
Net Appetit is a truly Silicon Valley street vendor. The Asian food truck parks under the shade of a eucalyptus tree in the parking lot of a Cisco Systems office complex in Milpitas. The food vendor is just a short walk from the Milpitas Square, a mall that offers the greatest concentration of Asian food in Silicon Valley. But come lunchtime, Cisco worker bees amble across the parking lot and queue up for a quick—and cheap—lunch. However, Net Appetit isn't just for Cisco employees.
The truck serves Thai and Vietnamese food with a few Korean and Chinesey dishes thrown in. The best thing I tried was a special described as Thai barbecued chicken ($6.50), a currylike, spicy-sweet dish over steamed rice that's full of lively aromatic flavor and chunks of boneless chicken. The heaping shrimp pad thai ($6.50) is decent, but the basil beef—wan sliced beef, onions, carrots and broccoli in a barely there sauce—was pretty weak. On my visit the truck was understaffed, just one guy serving as cashier and cook sweating over a propane-powered wok. He usually has a partner. Maybe the dish would have been better if he had more help. Most people take their food back to their cubicles to eat, but I just sat on lawn nearby.
I've been driving past the San Martin BBQ truck on Highway 101 in Gilroy for years, and always wondered about the place. Last week, I finally stopped in. The truck is parked just outside Garlic World, a garlic gift shop and market. The truck is something of a satellite for San Martin Meats, a barbecue catering business.
All the meats (ribs, tri-tip, pork butt, brisket, chicken) are barbecued over mesquite in the parking lot. They also serve grilled sausage and burritos and tacos. Meals go for $7.95 and get you your meat of choice as well as two sides and garlic bread. Make sure you get the chili as a side dish. It's a delicious, soupy mix of kidney and pinto beans and ground beef. The slaw is decent, too.
As for the barbecue, I liked the pork ribs best. The meat is beautifully caramelized and pleasingly charred. In spite of their hours in the smoke, the pork is still moist and juicy while the mesquite imparts a rather mild smoke flavor. The tri-tip is tender enough to cut with a plastic fork, but I would have preferred an herby, aromatic dry rub to set it off. As it was, the meat was rather one-dimensional. The accompanying barbecue sauce is too mild mannered to offer much help.
The pulled pork sandwich plate is served on a toasted and buttered bun and piled high with slow-cooked pork butt. It's good, but a shot of a barbecue sauce that packed more of a vinegar bite would have made it better.
One of my favorite meals on wheels is Mandy's Korner, a fire-engine-red trailer parked on the corner of West San Carlos and Sunol streets in San Jose. Grilled hot dogs and sausage and tri-tip sandwiches are the specialties here. The best I tried was the Italian sausage sandwich ($4), a butterflied, foot-long beauty topped with grilled red onions on a well-toasted, chewy but sturdy bun. The sausage, made by Stephen's Meats, is a juicy, porky beauty. The tri-tip sandwich ($7) is a solid choice, too. The meat is moist and tender, but a bit bland.
Mandy's has four tables set up under a tarp to get out of the sun and enjoy your meal. The place is popular with construction workers, truck drivers and other working folks who know the value of a good, quick meal.
---
Net Appetit
Address: Barber Lane and Sycamore Street, Milpitas.
Phone: none.
Hours: 11am–1:30pm Mon–Fri.
Cuisine: Pan-Asian.
Price Range: Most plates $6.50.
---
San Martin BBQ
Address: 4800 Monterey Road (Hwy. 101), Gilroy.
Phone: 408.828.2915.
Hours: 11am–6pm daily.
Cuisine: Barbecue.
Price Range: Plates $7.95.
---
Mandy's Korner
Address: West San Carlos and Sunol streets, San Jose.
Phone: 408.854.0856.
Hours: 10am–6pm daily.
Cuisine: Hotdogs, sausage and tri-tip sandwiches.
Price Range: $3–$7.
Send a letter to the editor about this story.