09.03.08
home | metro silicon valley index | movies | current reviews | dvd review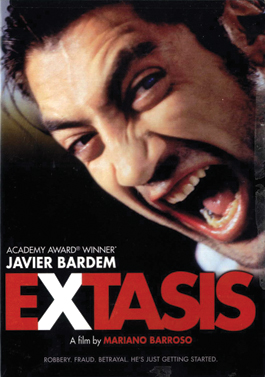 Extasis
One disc; Lionsgate; $14.98
Reviewed by Michael S. Gant
This 1996 Spanish feature gives American viewers a chance to see a young (27) Javier Bardem developing the intense style that eventually led to his Oscar for playing Grim Reaper Chiggurth in No Country for Old Men. Young, wild and not too bright Rober (Bardem) leads his pals Max (Daniel Guzmán) and Lola (Silivia Munt) on low-level crimes. He ups the ante when he sees a chance to cash in on the guilty conscience of Max's father, who abandoned him as a child. Pretending to be Max, Rober cozies up to Daniel (Federico Luppi), a renowned, wealthy Spanish stage director, figuring to strip his mansion of its art treasures. The imposture goes astray, however, when Daniel proposes to turn Rober into the star of his next play, much to the chagrin of Max and Lola, who quickly grow tired of waiting for the big score. Max, in particular, doesn't like the idea that Rober has turned out to be a much better son than he ever could have hoped to. The film (directed by Mariano Barroso, who co-wrote the screenplay with Joaquín Oristrell) can't decide what it wants to do with its father/fake son/real son triangle and limps to an unsatisfactory conclusion, but Bardem proves to be a riveting presence, full of the energy of De Niro circa Taxi Driver. No extras.
Click Here to Talk About Movies at Metro's New Blog
Send a letter to the editor about this story.