09.03.08
home | metro silicon valley index | movies | current reviews | dvd review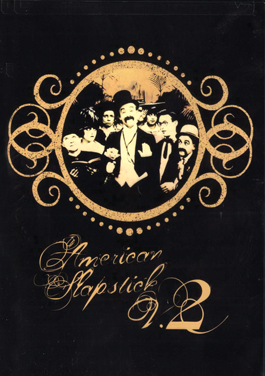 American Slapstick, Vol. 2
Three discs; Facets/All Day Entertainment; $34.95
Reviewed by Michael S. Gant
At nearly a century's remove, we know about silent-era comedy mostly by exploring the tip of the iceberg: the masterpieces of Chaplin, Lloyd and Keaton, plus endless excerpted Keystone Kops chase scenes and Mack Sennett pie-throwing melees. This three-disc collection does an excellent job at boring deeper to reveal just how extensive the world of comedy shorts really was in the pre-sound era. Bowler hats, paste-on mustaches, canes, flying pancakes, smacks in the kissers, flivvers with bent wheels and, yes, the ubiquitous banana peel got endlessly recycled with remarkable fecundity. Harold Lloyd is the biggest name here, the best film being 1918's Hey There, in which Lloyd fools around on the sound sets at "Near Famous Film Co." and demonstrates some peerless timing, moving in sync with the big beefer who is chasing him. The rest of the comedians in American Slapstick, Vol. 2 exist in the shadows of the big three. Gaylord Lloyd, seen in Dodge Your Debts (1921), was a pale imitation of his brother, Harold. Syd Chaplin, Charlie's half-brother, shows off own brand of deviltry in a short from the "Gussle" series about a straying husband with a Margaret Dumontish wife, but he has to capitalize on the Little Tramp's signature get-up to draw any attention. Indeed, so great was Chaplin's fame that a number of comedians simply did straight rips—the best of them is Billy West, whose The Hobo (1917) proves that Chaplin's persona could be effectively imitated. In one gem of a moment, an imperious wait discreetly extends his hand for a bribe, and West's tramp taps his cigar ashes in the outstretched palm. Snub Pollard, Larry Semon, Paul Parrott and Sid Smith all ring changes on sight gags and pratfalls—Parrott's Post No Bills (1923), in which he applies a swab of glue and a movie poster to every posterior in sight, moves at a breakneck pace. The real discovery is Billy Bevan, whose Be Reasonable (1921) fizzes with visual invention, from a periscope zipping through the sand to a legless beggar who turns out to have his legs stuck in two holes in the ground. A phalanx of cops race after our disreputable hero (he's evading his creditors), who makes his escape by swinging from the power pole on a trolley and dropping neatly into a trailing convertible. My one complaint is that this set didn't give us more of Bevan. Another pleasant surprise is shock-haired Alice Howell, a proto-Tracey Ullman with google-eyes and a great drunk act in Cinderella Cinders (1920). The set concludes with a couple of clunky slapstick sound shorts, which only prove that the style worked best without dialogue to slow things down. Sadly, as the notes by film historian Steve Massa relate, all too many of these comedians died young in the 1930s, as if the defeated by the new medium.
Click Here to Talk About Movies at Metro's New Blog
Send a letter to the editor about this story.