09.03.08
home | metro silicon valley index | movies | current reviews | film review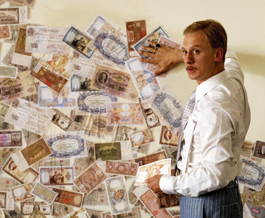 Photograph by Martin Spelda/Sony Pictures Classics
CURRENCY AFFAIR: Jan Die (Ivan Barney) plasters his wall with his earnings in 'I Served the King of England.'
Tortes and Tarts
In 'I Served the King of England' a canny waiter dishes up some cheesecake for the ruling classes
By Richard von Busack
THIS IS a bent kind of trifle, a semitranslatable parable about the hazards of getting along by going along. I Served the King of England is a Central European comedy about the waiter's pandering, smiling subservience to whatever class is ruling. There is no malice in this story. It is possible that some people who are deeply entrenched in a hospitality-industry training program might not even suspect the film has an edge. I Served the Kind of England also evinces the pre-morality of silent comedy. It shows us a little chap's unscrupulous climb to the top, followed by his fall because of trusting too much in the status quo. And as in the creamy Lubitsch comedies it echoes, the film shows off some babes. Director Jiri Menzel is wry about the connivance between curvy tarts and the mustachioed old men who hire them. Much of the film is like that scene in Some Like It Hot where the row of millionaires in rocking chairs start rocking harder when Marilyn sashays by "like Jello on springs." As the feminist cartoonist Colleen Coover put it, "Pretty girls make people happy." If that principle seems too boneheaded to you—it's sure working for John McCain, anyway—it's probably best to avoid this Czech movie. While providing an array of actresses in fetching '30s summer clothes, Menzel counterpoints by hinting at the corrosion of a society from too much sweets. This tendency is brutally overcorrected by the pious Communists.
It is a simple fact of cinema that no one looks trustworthy in a blond mustache. Ivan Barnev, as Jan Dite, grows one as a sign of his rising status as a waiter. He advances from a provincial bar to the counter at the best hotel in Prague. As the movie begins and ends, he is running a dusty gasthaus in the forest. He tells his life story to his friends. There's a Munchausian touch to his reminiscence. He once personally served a banquet of roast camel to the emperor of Ethiopia, a shorty in a tarboosh, who honored him out with a sash and a medal. Jan's acumen with a tray and a bottle of wine made him famous, but he also specialized in the arrangement of the goodies waiting upstairs for the regular customers: girls wheeled in on lazy susans or decorated with delicacies: flower petals, slices of fruit and especially money. And then—always minding his role as a servant—he holds up a mirror to the reclining ladies, like Cupid in a Renaissance painting, letting these Venuses see themselves. After the Reich acquires Czechoslovakia. Jan gets involved with a cute ardent Nazi (Julia Jentsch) who gets inhabited by the spirit of Der Führer, Exorcist-wise.
The film presents a droll view of a country with two terrible occupiers and shows how the spirit survived even after the borders capsized. The area is still dependent on the service industry; the Pilsner Urquell product placement in this movie is as omnipresent—and as chic—as the Stella Artois ads in a Landmark Theater. I Served the King of England is a slightly silly but very succulent movie with the sensible idea that one can counter the nightmare of history with fervent dreams of bare skin and thick frosting.

I SERVED THE KING OF ENGLAND (R; 118 min.), directed and written by Jiri Menzel, based on the novel by Bohumil Hrabal, photographed by Jaromir Sofr and starring Ivan Barnev, opens Sept. 5 at the Los Gatos Cinema.
Click Here to Talk About Movies at Metro's New Blog
Send a letter to the editor about this story.