09.03.08
home | metro silicon valley index | the arts | stage | review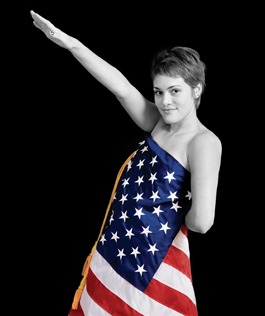 Photograph by Arron Lewis Photography
SHOWING THE COLORS: Renegade's 2006 production of 'The Bill of [W]Rights' generated plenty of controversy and discussion for the company.
S.O.S. Answered
Renegade Theatre Experiment thought the end was near, but an outpouring of support brings a new season to Hoover Theater
By Marianne Messina
AT THE END of last season, Renegade Theater Experiment, the 7-year-old company settled in Historic Hoover Theater, sent out an S.O.S. It had canceled the season's final play and it was going under. Renegade's demise sent artistic director Sean Murphy into the proverbial dark night of the soul. "I was really in a place of self-doubt, that maybe I was not being the most effective leader for the company. And maybe my choices weren't the best choices." But overwhelming response—volunteers, moral supporters, donors—soon settled Murphy's doubts, starting with the company's 10-member board. "To a member, none of the board even considered shutting down the company, that was not even on the table," says Murphy. "And that kind of passion reinvigorated everybody."
At that point, the Renegade group set about reshaping its season, cutting from four plays to three and pulling back from world premieres, which are always financially risky. This season, the new operating model has yielded The Book of Liz (opening Sept. 5), Mr. Marmalade and A Clockwork Orange. In addition to a leaner, tighter season, the shakeup seems to have led Renegade to some positive soul-searching, much of it as a result of having to present itself to the city of San Jose for an arts grant. "Early on, the first couple seasons, we were targeting being theater for the nontheatergoer, and I think we kind of lost sight of that," Murphy admits.
But audience surveys continued to show large numbers of first-time theatergoers, people who also responded that they planned to return to the theater. The company's quirky, imaginative, sometimes iconoclastic shows drew audiences who may previously have considered theater something "grandiose or not real." If people have a positive experience at Renegade and "realize that some of their misconceptions were wrong," Murphy hopes, "maybe they're going to try some of the other arts, and we'll help the community as a whole."
The city agreed and even gave thumbs up to Renegade's intrepid affinity for the controversial. One of the company's most successful shows was also the one that crowded its inbox with controversy, The Bill of [W]rights, a prickly set of vignettes about free speech. Murphy mentions that the show earned "the most walkouts ever of any show we've ever done. People left at intermission. People left; they just couldn't take it." But he cites the show's respondents as leading him to the most illuminating affirmation: "There was one woman who emailed us and said, 'You know I really hated your show, and I left and I was very angry, but it bothered me all week, and I ended up telling my friends, you know what, I didn't like the show, but you really should go see this show because it makes you think." The top renegade adds, "Theater isn't always a feel-good thing, but it also makes you think."
That said, this season's opener The Book of Liz, does do the feel-good thing. "This is probably one of the sweeter comedies we've done," Murphy considers. Written by the brother-sister team of David and Amy Sedaris, the play's heroine, Liz (Violet Ashe), is a cheerful but cloistered nun who blithely goes out into the world only to uncover the shadow side of her monastic life. Murphy says Liz inspires him to look at things with fresh eyes, "by seeing her accepting [odd characters] for what they are and just kind of embracing them." If she works the same magic on audiences, the renegade theater experience will be back.
THE BOOK OF LIZ, a Renegade Theatre Experiment production, opens Sept. 5 and plays Thursday–Saturday at 8pm and Sunday at 2pm through Sept. 20 at the Historic Hoover Theater, 1635 Park Ave., San Jose. Tickets are $15/$20. (408.351.4440)
Send a letter to the editor about this story.