09.03.08
home | metro silicon valley index | columns | silicon veggie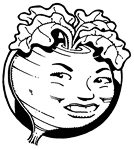 Silicon Veggie
A Campbell Surprise
By Elisa Camahort
SOMETIMES I walk into a restaurant and feel certain they will never accommodate my vegan-ness and that I'm bound to have a culinarily disappointing time. But sometimes restaurants can surprise you.
I didn't have high hopes for A Bellagio in Campbell. It's tucked away off the main drag in downtown Campbell, but not in a cute way, more of in an easy-to-forget way. It looked like a perfectly fine Italian restaurant, not particularly elegant, not particularly cheesy. But it looked like the kind of place that would be set in its ways, sent into a tizzy by a few gentle "what exactly is in ..." kind of questions. I figured it would be pasta marinara for me.
Long story short: I was wrong. Not only about my own meal, but also my dining companions who declared everything (including every-decidedly-not-vegetarian-thing) to be delicious.
It was tough to choose between the insalata pomodori and the beet salad for my starter. I went with the beets, since I rarely cook those myself. Of course I had to request it with no cheese, but it was no problem. Lovely golden and red beets with the lightest of vinaigrettes were a refreshing start to the meal.
The real test, of course, was my entree. Sure, I saw a rigatoni puttanesca on the menu that easily could have served, sans anchovies. But I wanted to shoot higher. I wanted the kind of favorite dish that I would never cook myself: risotto porcini.
Is it made with chicken broth? No, it is not.
Can it be made without cheese? Yes, it can.
And then, always a gratifying occurrence, the waiter proactively offered that it might be made with some cream, and she would have to check.
I told her if they couldn't make it vegan, I'd take the veganized puttanesca, but she showed up at the table with a healthy portion of rich, savory risotto porcini. Maybe I haven't had a "real" risotto in a long time, but I didn't miss any ingredient that was missing. I got the savory flavor with none of the dairy heaviness that usually accompanies risotto.
To top off the evening, they carried several flavors of sorbet, including one of my favorites, lemon. I got to indulge along with everyone else in a sweet ending to a surprising meal. A Bellagio was flexible and flavorful: an excellent combo for this vegan.
A Bellagio
33 S. Central Ave., Campbell,
408.370.7705
www.abellagio.com
Send a letter to the editor about this story.