September 5-11, 2007
home | metro silicon valley index | silicon valley restaurants | review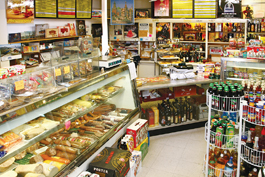 Photograph Felipe Buitrago
Steppes Right Up: Authentic Russian food awaits at the Russian Café and Deli.
From Russia With Love
The Russian Café and Deli in Campbell welcomes newbies and expats with hearty fare
By Stett Holbrook
AS THE South Bay's only outpost of Russian cooking, Campbell's Russian Café and Deli bears a heavy burden. For newcomers to Russian food and Russian expats, the restaurant has to carry the culinary flag for Mother Russia. And more often than not, it succeeds.
I liked the place as soon as I opened the door. It looks like a Russian and pan-Slavic grocery store that happens to have a little restaurant tucked in the corner. The shelves are packed with Russian beer and vodka (check out the bottles of "Sniper" vodka; the liquor comes in a bottle the shape of a machine gun), Armenian liquor, smoked fish, candies, pastries, Russian dolls and just about anything else a Russian émigré could want. I bought a bottle of Hungarian cabernet franc that wasn't half bad. The Aeroflot posters and Russian pop music playing add to the atmosphere of this one-of-a-kind place.
But for me, it's the lunch and dinner that are the real attraction. In spite of a Russian-American population in the United State of approximately 5 million, Russian food is bit of mystery here. Press the average Joe to name a classic Russian dish, and you'd be lucky to hear of anything other than borscht or beet soup. A smart-ass might mention vodka.
Russian food doesn't have the sex appeal of Italian food or the elegance of French food, but it makes up for that in heartiness and its high satisfaction quotient. Russia and the states of the former Soviet Union cover a massive area, and there are many regional variations to Russian food, but it is possible to generalize. Russia is a land of a long winter, and so hearty, cold-weather foods are the standards. Potatoes, breads, grains and vegetables with long shelf lives like cabbage, onions and beets play starring roles.
After being seated at a table with plastic chairs by a stern but helpful waitress, I dug in. As something of a Russian-food novice, I went for a couple of familiar dishes. The borscht ($4.95) here is a sweet and sour soup and is served chunky style. The addition of tomato paste and beef broth makes it a big and bold soup. Even bigger is the solyankya sbornaya ($5.95), a thick soup studded with chunks of mild pork sausage, black olives, pickles and barley. It's easy to imagine this soup getting you through a cold Russian night.
In addition to borscht, beef Stroganoff ($8.95) is another well-known Russian dish. It's arguably the one Russian dish to go international. Versions of it are served in Brazil, Sweden, Austria and the United States. At the Russian Café and Deli, it's made with tender bits of beef sirloin sautéed with mushrooms and onions in a thin but rich sour cream sauce and served with wide noodles. It's the kind of food my parents used to make in the 1970s when they wanted to be "gourmet." Today, it tastes more down-home than haute cuisine.
The best thing I had was the pelmeny ($7.95), house-made Russian dumplings. The dumplings look like oversize tortellini and are served with just a dollop of sour cream on top. The presentation is rather spare, but the juicy, burst-in-your mouth filling of beef and pork makes the dish a winner.
For an even more substantial dish, go for the combination plate ($8.95), a pairing of golubtsky and one blintz. Golubtsky are big cabbage rolls stuffed with ground beef and rice. The rolls are baked with sour cream and an herby tomato sauce. The blintz, a thick pancake, was filled with a fresh cow's milk cheese.
Desserts aren't made in-house, so I didn't bother, but you can get blintzes served with sour cream and jam ($4) if you feel like something sweet.
Maybe it's the homey setting or the no-frills nature of the food, but the simple, hearty dishes here taste like eating at a friend's grandmother's house rather than a restaurant. I don't think I have any Russian branches in my family tree, but my meals here made me wish I had a babushka of my own I could visit for a home-cooked Russian meal. I don't, but the Russian Café and Deli is the next best thing.
---
Russian Café and Deli
Address: 1712 S. Winchester Blvd., Campbell.
Phone: 408.379.6680
Hours: 11am–8pm Mon–Sat and 11am–5pm Sun
Price Range: $7.50–$15.95
Send a letter to the editor about this story.