September 5-11, 2007
home | metro silicon valley index | the arts | stage | review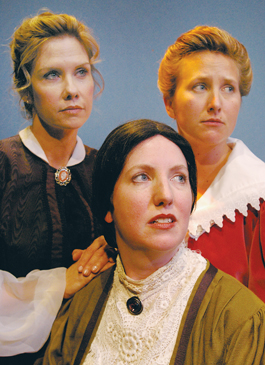 Photograph by Shannon Stowe
Russian Triad: Liz Coy (left), Meredith Hagedorn and Sarah Cook play the siblings in 'Three Sisters.'
Moscow Manners
The Pear finds the philosophy and the humor in a new translation of Chekhov's 'Three Sisters'
By Marianne Messina
THROWING parties against boredom, the upper-class denizens of Anton Chekhov's late-career play Three Sisters talk at each other through their life philosophies. "There's a lot of philosophizing in the play," says director Jeanie Forte. As she pulls together the upcoming Pear Avenue Theatre production of Three Sisters in a new translation by Craig Lucas, Forte thinks of what Karl Marx might have said about these characters: "Philosophy is the privilege of the rich—one tends not to philosophize when scrambling for the next meal."
Grandson of a Russian serf and son of a shopkeeper (whose bankruptcy forced the 16-year-old out on his own), Chekhov had a deep understanding of poverty. But his work tends rather to expose bankruptcy of the soul, across rich and poor lives indiscriminately. "There walk the slaves of the dark fear of life," said Russian writer Maxim Gorky of Chekhov's characters.
In Three Sisters, the aging family friend Dr. Chebutykin wonders, "Perhaps it only seems to us that we exist, but really we aren't here at all." Philosophy, according to Forte, is "a very real endeavor" for Chekhov, and in Three Sisters, it is "based on the desire to project one's self into the future, to envision a better time when happiness or enlightenment will prevail."
This future vision allows the town garrison's dashing commander, Lt.-Col. Vershinin (Forte calls him "the McDreamy" character), to live with energy, charming the Prozorov sisters along the way.
Andrew Harkins, who will be playing Vershinin at the Pear, thinks that Vershinin has access to the future in a unique way: "I get a sense of incredible hope and a restrained frustration."
Both Harkins and Sarah Cook—who plays the youngest sister, 20-year-old Irina—feel the sense of frustration with the limited options of the day. Irina joins with her sister in trying to create the sense of options by discussing plans to return to Moscow, land of their shining childhood memories. "Personally, I would have bought a bus ticket to Moscow at the end of Act 2," says Cook.
Cook believes that the play's humor may stand out for some people and be hidden from others. Like the eldritch party guest Solyony, Chekhov's humor may not always be appreciated: "Vershinin: How nice this cordial is! What is it made of? Solyony: Cockroaches."
In Chekhov's ongoing tug-of-war with Konstantin Stanislavsky, founder of the Moscow Art Theater where the play was first produced in 1901, he urged Stanislavsky to lighten up and de-emphasize the tragic tones in his plays.
Ill with tuberculosis (which took his life in 1904 at age 44), Chekhov nevertheless traveled to Moscow to oversee the productions. He had honed his sense of comedy in college, writing comic sketches (often political, satirical or absurdist) for progressive Russian magazines. And he always seems to smile wryly at his characters, as when Irina postulates that she'll find meaning in life through work. "How delightful to be a workman who gets up before dawn and breaks stones on the road" as opposed to being "a young woman who wakes at 12 o'clock, then has coffee in bed." (I'll take the coffee in bed.)
"Irina is Chekhov's Everyman," says Cook. "While many of the other characters are set in their philosophies and ways of life, Irina's philosophies are not yet molded by her life experiences." Cook feels the power of Three Sisters is in Irina's resonating struggle to find fulfillment within the tensions of society's existing framework.
Chekhov's humor may be subjective, but his endings are decidedly not fuzzy or resolved. As he once responded to an editor's critique, "You are confusing two concepts: the solution of a problem and the correct posing of a question. Only the second is obligatory for an artist."
THREE SISTERS, a Pear Avenue production, previews Sept. 6 at 8pm and runs Thursday–Saturday at 8pm and Sunday at 2pm through Sept. 30 at the Pear, 1220 Pear Avenue, Unit K, Mountain View. Tickets are $15–$30. (650.254.1148)
Send a letter to the editor about this story.