September 5-11, 2007
home | metro silicon valley index | columns | silicon veggie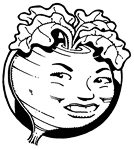 Silicon Veggie
Do You Take This Buffet to Be Vegan?
By Elisa Camahort
OVER A year ago I wrote a Silicon Veggie column on the hypothetical question of what I would serve at my wedding. The hypothetical has become real. In two months I'm getting married and planning to serve a vegan buffet. The carnivorous S.O. and I are paying for about two-thirds of the wedding and my folks are paying for the rest. And between my folks, the S.O. and me, I'm the only veg*n. I stated early on that I was hoping for a vegan wedding, and my mom and my S.O. expressed doubt: Would we find a caterer that could serve a satisfying meal for a crowd of 95 percent nonveg*ns? After a sumptuous and delicious tasting with our caterer-to-be, my S.O. was convinced.
My mom, not so much.
But I said it was important to me, and the S.O. was fine with it, so we were going for the real vegan deal. But that was before my mom discovered that I had previously let people purchase and bring nonvegan food into my house to serve to other people. She wondered why the wedding was different, considering she was paying for part of it. And all she was really asking for was some cheese, somewhere.
I joked and said, "Well, you guys are paying for everything else!" (My mom was not amused.) So, I thought harder about why it was different. I came up with this: It's all about the symbolism and significance of the occasion. People say "It's your day" a lot, and while I'm not into the bride-on-a-pedestal, groom-on-the-sidelines feeling that evokes, I do agree that no matter who is paying, a wedding represents the bride and groom. Or should. Every bride I talk to whom expresses regrets about her wedding, and says she regrets she went along with something she didn't like to please someone else.
I don't interfere with other people's choices in their day-to-day lives. But on a day when we're gathering our nearest and dearest around us to celebrate life, why would I feel comfortable serving them something that I believe reflects only death? I may not make an issue of that any other day of my entire life. It may not be my business any other day of my life. But it's what I believe. And on this day I feel like I should stand up for that. I believe I can and still provide the spirit of abundance to our guests. So that's the plan!
Send a letter to the editor about this story.