September 6-12, 2006
home | metro silicon valley index | columns | silicon alleys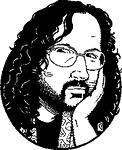 Silicon Alleys
Got Elk?
By Gary Singh
THE SAN JOSE ELKS LODGE No. 522 sits on a wonderfully desolate stretch of Alma Avenue. Everyone has driven by the place for years, but no one knows what's inside, so I just had to find out. To begin the adventure, my intrepid guide and I donned Hawaiian shirts and he took me through the parking lot, which doubles as an RV park. About 40 RVs call the place home. There's even a 100-year-old caboose propped up at the far corner of the lot.
Inside, one finds a huge swimming pool, a few bars and furniture that must date back at least 40 years. We enter through the front, the guide using a purple membership card to trigger the door. In the lobby, there's ratty black furniture, '50s décor and dozens of photos of past "Exalted Rulers" dating back to 1899. My guide likens the nomenclature to The Flintstones. Then I'm escorted into the "reading lounge," the room where prospective new members go through the questioning process, usually in front of about 15 people. My guide tells me he was inebriated when he went through the process, but he survived.
You see, when you fill out a membership for the San Jose chapter of the Benevolent and Protective Order of Elks of the United States of America, you must answer several questions about yourself. The membership application posted on the Elks' website offers a wealth of puzzling inquiries. Question No. 6 asks this: Are you willing to assume an obligation that: (a) will not conflict with your duties to yourself, or your family, or your religious or political opinions, and that (b) will bind you to uphold the Constitution and laws of the United States of America? Of course, that's only after they ask if you're a citizen of the United States and whether you believe in the existence of God. Other questions pry into your previous residences and ask for the names and addresses of at least two citizens of any city in which you have resided during the last five years, where a Lodge of this Order is located.
As if that wasn't enough, question No. 7 offers a wonderfully convoluted inquiry: Are you now a member of the Communist Party or directly or indirectly connected or affiliated with the Communist Party or with any organization or group advocating or believing in the overthrow of the government of the United States by force?
I wouldn't know how to answer that one, except to say, "Isn't everybody?" My guide tells me that he originally stated on the form that he didn't believe in God, but the Elks called him on the phone and asked if he could change that to say he believed in a higher power. He told me he replied and said, "Sure. If there's a swimming pool and two bars in the place, I'll believe in a higher power."
Along with that pool and two bars, they've got a card room, six pool tables, a Ronald Reagan calendar and a gym that smells like it hasn't been aired out in decades. On the door to the gym, a sign cautions: "Use this facility at your own risk." After leading me into the gym, my guide points to a treadmill that's been sitting in the same state of disrepair for years. "The guy fixing it just got up and vanished into thin air in '95 or so," he explained.
He went on to explain that the Elks are a club for just regular folks. It's not like some stuffy Swim & Racquet club where everyone brags about their social status: "As much as we bitch-slap the place, it's a home where you can come and swim, and drink and hang out. There's some empty bar stools and you can just hang out. No one here's going to ask what kind of car you drive."
Hey—with 25 cent popcorn and a giant elk's head above the jukebox, I think he's right. My guide also said the Elks let him bring however many outside guests as he wants. "This place is for people just like you and me," he continued. "The pool is nice. That's really why we're here. Memorial Day and Labor Day, this place is packed. Aside from that, there's nobody here."
Contact Gary Singh or send a letter to the editor about this story.