September 6-12, 2006
home | metro silicon valley index | movies | current reviews | film review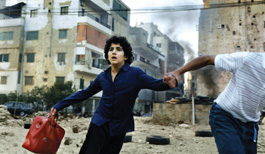 Photograph by Per-Anders Jürgensen/Memfis Film
Time to Go: Imad Creidi must flee Lebanon for Sweden in 'Zozo.'
Mideaster Basket
The annual Arab Film Festival keeps cultural cinematic bridges open
By Richard von Busack
THERE ARE film festivals and there are film festivals, but few are as essential as the Arab Film Festival. Now at 10 years of age, the AAF is a cultural triumph for the South Bay, where it originated. Over the course of this last decade, while Arab and American relations were poisoned by terrorism, the festival kept its cultural bridge open. Traveling to various locations throughout the Bay Area, the fest makes its local stops this weekend and next.
This year's round highlights movies from the one-time Arab cinematic powerhouse, Syria. By coincidence, the Pacific Film Archive in Berkeley is holding a minifest titled "The Road to Damascus: Discovering Syrian Cinema," running Sept. 7-Oct. 12. Functioning as they have under decades of dictatorship, Syrian artists continue to work as best they can. At PFA on Sept. 9, and at Cubberley Auditorium at Stanford on Sept. 12, at 6:30pm: Oussama Mohammad's 1988 banned-in-Syria Stars in Broad Daylight (the title of this family tragedy would seem to refer to a blow to the head, administered from a tyrant father to his son). Under the Ceiling (Sept. 11, 6:30pm, Cubberley) is a romance set in a decrepit building. And at Our Listeners' Request (Sept. 10, noon, Camera 12) concerns a Syrian version of the bulletin board on A Prairie Home Companion, listened to by remote villagers who have only one radio between them.
The fest also includes movies from 11 other countries. The suave Cairo-set romcom Heads and Tales, a.k.a. Malek Wa Ketaba (Sept. 10, 6:30pm, Camera 12, and Sept. 11, 8:30pm, Cubberley), is sort of a tribute to the golden age of the Egyptian musical of the 1940s. A gruff Clifton Webbish professor of acting (Mahmoud Hemida)—a Polonius who thinks he's qualified to play Hamlet—mellows after meeting the dazzling Hind (Hend Sabri), a young would-be actress who gently persuades the prof to abandon his stale traditions. The film is both warm and sensible, short and sweet.
Josef Fares' Zozo (Sept. 10, 4:30pm, Camera 12) grew on me, though it starts out a little too cute to live. This odyssey of an angelic child (Imad Creidi) begins very glossy and Spielberg-esque, making a spectacle out of the bombardment of Lebanon in 1987. The story is honeyed with heavy touches of magical realism. Hiding in a Dumpster from the bombing, Zozo has a companion, a yellow baby chick who talks to him in a gruff, world-weary voice. The boy is taken up by his grandparents, who have fled Lebanon's violence for Sweden. In Scandinavia, exile, uncontrollable flashbacks and bullying torment the boy. Still, Zozo is not at all an ax-grinder. On his lonely travels, the boy meets a humane Israeli soldier. The film endorses pacifism, though it never suggests that escaping the cycle of revenge is an easy task. The flavor of Zozo is reflected in the favorite snack of the grandfather (played by the lovable Elias Gergi), who enjoys crunching on salted green apples. As Samuel Goldwyn said, in this life, you have to take the bitter with the sour.

The 10th Annual Arab Film Festival plays Sept. 10 and 16-17 at Camera 12 in San Jose and Sept. 11-12 at Cubberley Auditorium, Stanford. See www.aff.org for details.
Send a letter to the editor about this story.