September 6-12, 2006
home | metro silicon valley index | silicon valley restaurants | review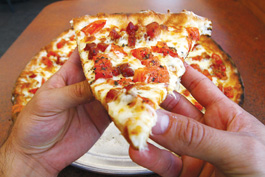 Photograph by Felipe Buitrago
Look out, Chewie, Imperial Star Destroyer! Whew! It's just a massive slice from Amici's.
Pie Detector
Three new pizza places slice up the downtown scene
By Stett Holbrook
IF I WERE to open a restaurant, it would probably be a pizza place. For one, everybody loves pizza. Food fads come and go, but I can say with confidence that pizza is here to stay. And second, while restaurants supposedly have the highest rate of failure of any new business, the low cost of pizza's raw materials (flour, cheese, tomatoes) might give me a fighting chance of making a profit. But I probably wouldn't open my pizza parlor in downtown San Jose. All of a sudden the place is lousy with them.
Three new pizza establishments caught my eye recently: Amici's East Coast Pizzeria, Tony Soprano's Pizzeria and Ristorante and 4th Street Pizza Co. For purposes of comparison, I ordered a margherita pizza at each restaurant. A margherita pizza (traditionally cheese, tomato and basil) is a stripped-down pizza that I think offers a good basis on which to judge pizza quality.
Amici's
Amici's is a growing, San Mateo-based chain of pizzerias. According to the restaurant's website, owners Mike Forter and Peter Cooperstein opened the first Amici's in the mid-1980s in San Mateo to remedy what they saw as a lack of thin-crust, foldable, New York-style pizzas.
The restaurant's new downtown San Jose location was the best of the three pizzerias I tried. It was also the fastest. In just five minutes my pizza ($17.15 for large) was done. Amici's bakes its pies in a flame-licked, 700-degree brick oven. This blistering heat gives the crust a slight charred edge and a faint smoky taste. I loved it. The crust was about a half-inch thick, chewy and crisp with plenty of body and loft. The cheese and tomatoes were pleasingly blistered and applied sparingly, an important consideration with thin crust pizzas. Tomato sauce is optional on this pizza and I opted for it. Taken together, the pizza had a delicious, slightly salty richness that didn't weigh me down like some more heavily constructed pizzas can.
High ceilings, pendant lighting, framed black and white sports photos and smartly dressed servers separate Amici's from your typical pie shop. The restaurant also has a decent wine list and offers a number of salads, sandwiches and pasta dishes as well.
Tony Soprano's
When I think of a typical pie shop, I think of a place like Tony Soprano's Pizzeria and Ristorante, a bare bones, no frills restaurant that invests what it doesn't spend on décor into its pizza.
The 8-month-old restaurant has locations on the East Coast, but this is the first on the West Coast. Owing to its East Coast heritage, it's another thin-crust-style place. Because of its proximity to SJSU and the half-dozen pizzas on the counter, I'm guessing Tony Soprano's does a good slice business. While I was waiting for my pizza ($17.95 for large), I sampled a slice of mushroom and pepperoni. In addition to being so hot I scorched the roof of my mouth, the slice was quite good. Slices can go stale if they sit around too long but this was a freshy. The crust crisped up nicely in the oven and yet the dough was still soft and springy.
As for my margherita pizza ($17.95 for large), it was a sight to behold, a big, irregularly shaped orb with beautifully melted mozzarella cheese, chunky but thin tomato sauce and flecks of fresh basil that were bleeding pale green into the glistening oil oozing from the cheese. The cheese was particularly good. Pizza-grade mozzarella is often rubbery and bland but this was fresh and sweet-tasting with a light and refreshing consistency.
If I owned Tony Soprano's, I would have applied less tomato sauce. It was bright and fresh-tasting but too much of it made it hard to pick up a slice even when folded in half in proper New Yorker style. The excellent crust did its best to hold up, though. Less than an inch high at the edges and just a few millimeters at the center, the crust was at once light and crisp and chewy.
In addition to pizzas, Tony Soprano's serves calzones and strombolis. A stromboli is like a calzone minus the ricotta cheese. Stromboli is a fun word to say and makes you feel all East Coast and want to start slinging vintage Beastie Boys lyrics ("Twenty four's my age and twenty two's my gauge/ I'm writing rhymes on a page/ I'm going off in a rage"). Or maybe that's just me.
4th Street Pizza Co.
4th Street Pizza Co. occupies a prime corner spot on East Santa Clara and Fourth with big windows to watch the passing traffic and the coming and going at City Hall across the street. Chances are you won't be watching the traffic, but one of the half-dozen plasma flat-screen TVs tuned to various sporting events that hang on the wall.
While I waited for my pizza ($20.95 for large), I took a seat at the small bar. Choosing from one of the eight beers on tap, I sipped Sierra Nevada pale ale and chatted with the friendly bartender while tiding myself over with a slice of pepperoni. She said the margherita was her favorite pizza on the menu and told me I had chosen well.
I believed her until my pizza arrived. The crust was as dense and crisp as a cracker and snapped off sharply with a twist of my fingers. The look and flavor was distinctly industrial. I've tasted better pizzas out of a box. To make matters worse, the pizza was sprinkled with what tasted like an overly generous dusting of garlic salt. I ate one slice and pushed it aside.
The margherita is made with a thin crust but all others come with thick crust unless requested otherwise. Thick crust might be the way to go. The slice of pepperoni I ordered wasn't half bad. The crust was actually lighter because it had more loft and airiness to it than my thin crust pie.
Making a good pizza is probably harder than I think. I'll hold off on opening my own pizza restaurant and keep my day job for now.
---
Tony Soprano's Pizzeria and Ristorante
Address: 87 E. San Fernando St., San Jose
Phone: 408.271.9707
Hours: 11:30am-11pm Mon-Wed and 11:30am-midnight Thu-Sat
Price Range: $12.95-$19.95.
Amici's East Coast Pizzeria
Address: 225 W. Santa Clara St., San Jose
Phone: 408.289.9000
Hours: 11am-10pm Mon-Thu, 11am-11pm Fri, 11:30am-11pm Sat and 11:30am-10pm Sun.
Price Range: $16.50-$22.95.
4th Street Pizza Co.
Address: 150 E. Santa Clara St.
Phone: 408.286.7500
Hours: 11am-9pm Sun-Thu and 11am-10pm Fri-Sat
Price Range: Large pizza $16.50-$22.95.
Send a letter to the editor about this story.