September 6-12, 2006
home | metro silicon valley index | movies | current reviews | film review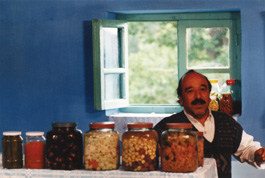 Photograph Courtesy Global Lens Film Festival
Open For Business: 'Border Café,' from Iran, focuses on life in small business struggling to stay afloat.
Wide Lens
The Global Lens Series screens Third World features that the First World rarely sees
By Richard von Busack
HOW IS IT that San Jose, the 10th biggest city in the United States, didn't get a chance to see The Death of Mr. Lazarescu? Was it that the film had both "Death" and a foreigner's name in the title? Too bad it wasn't an inspirational football movie—that, we're allowed to see. The gaps in even our own plentiful cinema schedule justify the Global Lens Film Festival. It's a 4-year-old traveling show of current foreign films from seven different countries; filmmakers as varied as Pedro Almodóvar, Mira Nair, Bela Tarr and Lars von Trier have lent their support for this program. All screenings take place at the Mexican Heritage Plaza through the month of September:
Thirst (Sept. 12, 9pm, and Sept. 22, 7pm) is a movie Californians will identify with, as it's a story of water wars in an arid land. Tawfik Abu Wael's penetrating drama about a man's stubbornness takes place in an abandoned village in an Israeli Army-patrolled zone, where a Palestinian elder squats with his family. He has money to live in the city, but his daughter's unmarried pregnancy has made him an exile. Keeping himself alive with hijacked water and stolen wood, he sells charcoal and insists that his family stay with him, despite his son's increasing frustration and longing to leave for school. The image of a hardheaded man, learning nothing and forgetting nothing, has some application to the fate of Palestinians today—or so it would seem from this intensely symbolic and intriguing drama.
The Iranian Border Café, a.k.a. Café Transit (Sept. 11, 7pm, and Sept. 16, 9pm), is about a widow trying to avoid a traditional widow's fate of marrying her brother-in-law and becoming a second wife. She works to keep open her husband's cafe, but pressures around her complicate this already difficult way of making a living. Kambozia Partovi isn't known here, but the film is a safe bet, since bad Iranian films are the exception rather than the rule. As one Iranian filmmaker once boasted, Persia has three eons of storytelling behind it.
In the Battlefields (Sept. 11, 9pm, and Sept. 14, 9pm) comes from Beirut's Danielle Arbid—a documentary maker debuting with her first feature film. It's about 1980s Beirut, under siege, but young Lina (Marianne Feghali) is more concerned with family trouble, being the child of a degenerate gambler and a mother who is powerless to stop the family's money being squandered. Marcelo Gomes' Cinema, Aspirins and Vultures (Sept. 12, 7pm, and Sept. 22, 9pm) concerns an unlikely pair of friends in a remote quarter of Brazil in 1942: a German trying to dodge being drafted into the wartime army and a farmer whose livelihood is affected by a bad drought. Together, the two get into the picture business—taking movies from hamlet to hamlet by truck. As in the case of Arbid, this is the first work of a documentarymaker turning to feature films.
Other shows include South Africa's Max and Mona, Brazil's Almost Brothers and The Night of Truth from Burkina Faso, a story of a fictional country about to lay down its arms after a decade of civil war, until mutual suspicion stirs up the embers.

The Globel Lens Film Festival plays Sept. 9-22 at the Mexican Heritage Plaza, 1700 Alum Rock Ave., San Jose. See www.globalfilm.org for details.
Send a letter to the editor about this story.