September 6-12, 2006
home | metro silicon valley index | movies | current reviews | film review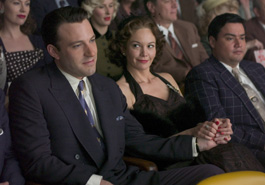 Superdate: Ben Affleck fools around with Diane Lane in 'Hollywoodland.'
Krypton Babylon
Diane Lane and Bob Hoskins almost, but not quite, counterbalance Ben Affleck in 'Hollywoodland,' the story of George Reeves' sad end
By Richard von Busack
GEORGE REEVES played the Kryptonian star on the Adventures of Superman TV show, which ran from 1952 to 1958, and far longer in reruns. Considering that he spent his time tying up dopey bank robbers, Reeves' Superman radiated paternal strength and humane, raffish charm. Compared to the dull white fathers on the sitcoms of the time, Reeves knew how to make moral firmness look attractive.
Hollywoodland explains a particular shot often used in Adventures of Superman. After being dropped hard from a broken flying harness, Reeves preferred to lie on his stomach while the superimposed L.A. (playing Metropolis) flashed on a screen behind him. The makers of Hollywoodland get an easy laugh from the technical crudity. Let me explain that on TV, this head-and-shoulders viewpoint was all the more exciting for children, who got to feel they were riding on Superman's cape. The blue-white nimbus of glowing light around Reeves—caused by the limits of 1950s superimposition—could have been heat, sunlight or an unearthly glamour.
Hollywoodland is a fictionalized mystery based on the cloudy circumstances around the death of Reeves (Ben Affleck). In 1959, Reeves was found dead in a Benedict Canyon bungalow; a gang of partying friends waited an hour before calling the police. One theory claims that "Honest George" was despondent over being typecast as Superman and that drinking had led him to pull the trigger. Another theory claims that a woman had him done in. Diane Lane plays Toni Mannix, one of the two women who might have loved Reeves to death.
Hollywoodland claims that Toni was in an open marriage with ailing MGM vice president Eddie Mannix. As the hulking Mannix, snarling around his cigar, Bob Hoskins brings frightening truculence to the role. Imagine a Hollywood version of Dick Cheney.
Lane makes her portion of the film a tragedy, giving an affecting performance without the movieish touches of another suspect, Reeves' fiancee Leonore Lemmon (Robin Tunney). Lane knows that she is in a love story; Tunney—with a very bad New York accent—thinks she might be in a film noir. And yet it is Lane who has the most quotable noir line, and she even makes it sound like something a person might actually say: "I don't have a problem with a man drinking before breakfast, but it's impolite not to offer me any."
Lane is seven years older than Affleck in real life, but the distance is supposed to be more extreme, to make us believe that she is a clinging, aging married woman, smothering the "boy" she is trying to keep. Watching their scenes is like watching the tape of James Brolin auditioning for the role of James Bond in Octopussy; the lines are all there, just not an actor heavy enough to hold them down. Looking for a similar experience? Try watching Richard Crenna doing Walter Neff in the 1973 TV remake of Double Indemnity.
Director Allen Coulter achieves a great deal of scratched, battered 1950s elegance; this is the most authentic-looking movie about Hollywood tawdriness since L.A. Confidential. Even if Hollywoodland were more flawed, the story alone would carry it. Feelings still run high on the Reeves death. Check jimnolt.com to read some of the flaming arguments over new gossip, including one account of Toni Mannix's death-bed confession. "Death-bed confessions aren't worth the paper they're written on," snipes a rival theorist.
If you present an unsolvable mystery in a movie, it's best to have surprise countertheory, as per Joe Dante's contention that Jack the Ripper was actually the Loch Ness Monster. But neither Coulter nor screenwriter Paul Bernbaum coughs up anything new. Running out of leads, they change the focus to the bracketing story, the problems of a private detective named Louis Simo (Adrien Brody) trying to solve the Reeves murder at the behest of Reeves' mother.
Simo's messy home life is his own personal riddle he has to solve, as a favor for his Superman-loving little boy. The family scenes are there to upbeat the film and to outwit the viewer who asks, "And the death of this minor actor is important, why?"
An actor with more involvement in the part than Affleck could tell us why. Hollywoodland asks that you overcome the annoyance of having Affleck intrude on the memories of Reeves. He is as lightweight as always; a narcissist losing interest in even himself. People familiar with Affleck's work don't need an explanation as to why the website Grouchoreviews.com sells T-shirts reading "Damn You, Ben Affleck."
It's not that Affleck doesn't try, sometimes, but he mostly coasts; he doesn't bring anything to the picture but his cold good looks and square jaw. Particularly pathetic is Affleck—courtesy of digital witchcraft—doing Reeves' scene from From Here to Eternity; wasn't stinking up one Pearl Harbor movie enough? If there's resonance here, it is that Affleck is playing the kind of actor he might become if he doesn't improve—resentful of wasted opportunities, depressed for being known for a superhero role and longing for the world to take him seriously when there's no reason to do so.

Hollywoodland (R), directed by Allen Coulter, written by Paul Bernbaum, photographed by Jonathan Freeman and starring Ben Affleck and Diane Lane, opens Sept. 8.
Send a letter to the editor about this story.