September 6-12, 2006
home | metro silicon valley index | movies | current reviews | film review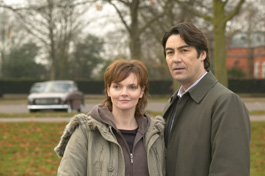 Photograph by Joss Barrat/BBC
Probing Drama: Aristo Inspector Lynley (Nathaniel Parker) solves crimes with his partner Havers (Sharon Small) in typically overcast English countryside.
The Odd Couple
Class-conscious police detectives add genteel grit to whodunits in 'Inspector Lynley Mysteries'
By Michael S. Gant
RIGID CLASS distinctions may not contribute to an egalitarian society, but they do add some genteel grit to BBC's Inspector Lynley Mysteries, which return to PBS Sept. 10 for a four-episode run. The series features Detective Inspector Thomas Lynley (Nathaniel Parker, Mr. Skimpole in Bleak House), a member of the aristocracy—the eighth Earl of Asherton, to be precise—who picked police work in order to fulfill a sense of justice that wasn't shared by most of his peers. His Oxford education comes through in snippets of classical knowledge and in the form of a sleek, long-hooded maroon sports car (a Bristol 410) rather than the somewhat clownish blue-and-yellow-checkered official cars driven by other officers.
Lynley's partner, Detective Sgt. Barbara Havers (Sharon Small with a haircut that evokes Kathryn Erbe's look on Law & Order: Criminal Intent), is a working-class product who defers to Lynley's internalized caste prerogatives, albeit with a touch of sardonic resignation on occasion. In one of this fall's episodes, she gleefully mocks some of the pretensions of upper-class pronunciation. Together, Lynley and Havers solve the usual British-style murders (the show is based on characters created by Elizabeth George), minus the gore and flashy editing of American police dramas. At the same time, they must negotiate their own emotional minefields. As the new season begins, Lynley's marriage lies in tatters. His wife, who lost her baby in a car accident, appears ready for a divorce. Lynley, constantly worrying his cell phone in hopes of word from her, clings to the possibility of a reconciliation. Meanwhile, Havers, whose outfit of choice is a military-style overcoat with a patchy fur collar into which she disappears like a camouflaged wallflower, is making some half-hearted attempts at Internet dating, leading to an amusing scene with a supercilious prospect whose mantra is "But enough about you."
The season opener takes the pair to Suffolk for a case that leads to some long-buried secrets a la I Know What You Did Last Summer. The rural setting, far from their London base, detracts from the usual wit and pacing. Equally disappointing is the casual, Monty Python-esque "I'm not dead yet" way the script treats last season's cliffhanger, in which Havers took a possibly fatal bullet to the gut. None the worse for wear, Havers does appear a little more willing to parry Lynley's sometimes condescending brand of noblesse oblige.
Episode 2 improves as Lynley drags Havers along to his Cornwall country home, where he and his sister attempt to convince their mother that she needs help keeping the estate shipshape. Meanwhile, a neighboring horseman is founded hung in his own stable. The mystery runs second place to the awkward family dynamics. Lynley's sister greets Havers with a cheery, "Do you ride?" an absurd query to which Havers can only cock an eyebrow. A dinner scene proves to be a painful dance of denial and avoidance, as Lynley and his sibling chide their mum, while the matriarch probes the open sore of Lynley's failed marriage. The final two episodes return to London for machinations among the members of parliament and then a vicious murder that entraps an immigrant family. The latter case leads to this season's requisite cliffhanger, with one of the pair's careers threatened.

The Inspector Lynley Mysteries air Sept. 10, 17 and 24 and Oct. 1 on PBS.
Send a letter to the editor about this story.