September 6-12, 2006
home | metro silicon valley index | music & nightlife | preview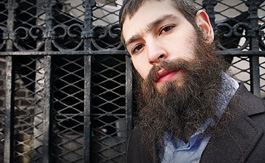 Photograph by Dan Mandell
Double Dutch Shabbos: Matisyahu prefers sidelocks to dreadlocks.
2 Live Jew
Is Matisyahu the chosen or just posing?
By Todd Inoue
IT'S THE second night of Matisyahu's tour, and he is performing within earshot of Mel Gibson Land, a.k.a. Malibu. The Chasidic rapper hasn't given much thought as to whether he'll address the actor's anti-Semitic remarks tonight during his co-headlining show with Michael Franti and Spearhead, but it appears unlikely.
"He has his own opinion—what do I care?" Matisyahu says. "It's like the bully in class throwing things at you; do you want to give him more attention? The more attention you give, the more it sucks positivity out of you. You just realize you're God's creation. It's not my place to get in a back and forth. What I say won't make a big difference."
Music and messages of positive upliftment make a strategy—nay, lifestyle choice—that has carried Matisyahu to two gold records (Live at Stubb's and the latest, the Bill Laswell-produced Youth). As pop music's most visible Chasid, he acknowledges that—with the turmoil in Lebanon, Madonna gone Kabbalah and Gibson's pickled puss—it's a unique time to be an outspoken artist of Jewish faith.
"Life can be so complicated, I try to keep it simple," he explains. "I feel that a soldier has to do what he has to do. As an artist, it's also pretty simple and clear what I need to do; try and go out there and bring people together in a peaceful way. God chose to bless my life, so I don't have to grab a gun. I sing songs and play music. It's an important job to promote peace and inspiration. I try to bring my lyrics to the people and create experience with people."
Born in West Chester, Pa., and raised in White Plains, N.Y., the young man once known as Matthew Miller became, through many journeys, spiritual disciple Matisyahu. He is a member of the Chabad-Lubavitch Hasidic community in Crown Heights, Brooklyn, who seeks to express himself through dancehall reggae and hip-hop.
While many see through the surface novelty of a rapping Chasid to embrace Matisyahu's message of unity, some critics have cried foul. The New York Times' Kelefa Sanneh made Vanilla Ice-like allusions to a white guy selling black culture to white kids ("Perhaps Matisyahu's fans aren't familiar with a little-known group of performers who still make great reggae records: Jamaicans," Sanneh wrote), and Slate's Jody Rosen dug in deeper, accusing Matis of modern-day minstrelsy: "Matisyahu is like a thousand other white guys from the suburbs who've smoked a lot of dope, listened to some Burning Spear records and decided to become reggae singers."
Matisyahu hadn't read Rosen's piece but remarked on Sanneh's accusation of cultural appropriation. "The world has adapted Judaism to their liking—Christianity, Islam, including reggae," he says. "Everything is mixed up and connected. As long as you create music and put it out there, people are going to take it. The biggest reggae musicians in the world—Sly and Robbie and them—they want it to get out there."
Even though his records sell, and he can afford Pink Floyd's stage-lighting director for this tour, Matis says he's far away from content. Credit humility, a rarity in the ego-driven world of entertainment. "You can't be humble in thinking gold is great; Outkast's last record sold 10 million," he says. "I feel I'm just starting out and want to grow and to build. We're just starting out musically. It's all new for us. As a performer I have a long way to go. The music itself, the inspiration—I don't feel like it's there yet. I don't feel like we've reached the destination."
He then brings up a Talmudic law that states that an incomplete vessel never becomes contaminated. "A person is a vessel, he holds God's life, experience and history—all those things dwell within a person." Consider Matisyahu a work in progress—always building and learning—free from contamination.
Matisyahu plays Sept. 9 at 9:30pm at the San Jose Civic Auditorium, 145 W. San Carlos St., San Jose. The Polyphonic Spree and Street Drum Corps open. Tickets are $39.50. (408.998.TIXS)
Send a letter to the editor about this story.