September 6-12, 2006
home | metro silicon valley index | columns | silicon veggie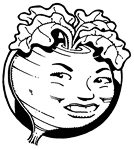 Silicon Veggie
Help Veggie Go Vegan
By Elisa Camahort
I JUST FINISHED a book that reminded me why I became a vegetarian in the first place, 17 long years ago. It's good to get regular reminders and I have Silicon Veggie to thank for this one.
A few months ago, I wrote a column about veganism, stating right up front that I was not a vegan, although I thought I should be, but explaining a bit about vegan philosophy. I have 400 words here with Silicon Veggie, so perhaps it was a bit foolish to try to explain anything in that limited space. I quickly got one aggravated vegan telling me I did a terrible job of it. Not that what I talked about was wrong, exactly, but that I should have focused on other aspects of veganism instead of the angle I chose.
Luckily, I also got a kind note from author Erik Marcus, saying he enjoyed the column, and he sent me his book Meat Market—Animals, Ethics and Money. Reading Meat Market took me back to 1989 when I first started researching everything from factory farming to vivisection. It brought me back to getting angry. It also brought me to tears—as I often was back in those early days. Meat Market confirms that conditions for most food animals have not improved much, if at all, since I became a vegetarian.
Marcus makes the case that chickens have it worse than any other farmed animal, including those bred only to be killed and eaten, and that layer chickens (vs. broiler chickens) have it worst of all because they are kept alive the longest in the worst conditions. Meat Market effectively killed all of my rationalizations about being vegetarian vs. vegan.
Since Meat Market is about taking action and trying to effect change, it's no surprise that reading it reminded me that the biggest change I'd like to effect would be to make that shift from vegetarian to vegan. There's only one problem: I've failed at it several times. So, for once, instead of telling you all where and what to eat, I'm going to ask you! What are your favorite vegan restaurants in Silicon Valley and on the peninsula? I can't go to Garden Fresh every night, after all. And someone please tell me a good replacement for cheese—it's my downfall every time!
Just email [email protected] with your recommendations for this wannabe vegan, and I'll put the best suggestions in a future column.
Send a letter to the editor about this story.