09.09.09
home | metro silicon valley index | the arts | stage | review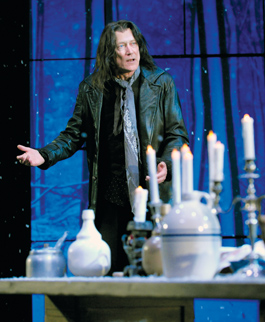 Photograph by Kevin Berne
WIZARDLY: James Carpenter casts a spell in San Jose Rep's 'As You Like It.'
Stratford On Gothic
San Jose Rep's Rick Lombardo gives 'As You Like It' a high-tech urban look
By Steve Palopoli
WITH EACH passing year, the question of how to bring Shakespeare alive for modern audiences gets more and more complicated. Shakespeare Santa Cruz gets most of the credit in Northern California for bringing new approaches to the Bard's works—many of them classic, some of them weird but interesting, and others just completely random (with at least a couple of them, including the now-legendary Merry Wives of Windsor–in-a-trailer-park gambit, that I will never be able to make up my mind about).
But with his directorial debut for San Jose Repertory Theatre, artistic director Rick Lombardo has staked his claim to a place in a very small group of modern Shakespeare visionaries. By any standard, this production of As You Like It is an unqualified triumph. But the fact that it was built on one of Shakespeare's shakiest and most controversial plays only makes it all the more impressive.
The typical Shakespeare nut has seen enough mediocre stagings of As You Like It to be wary. Critics for centuries have argued about whether As You Like It is a great work, or a comedy trifle. What Lombardo's version does is reaffirm the pure entertainment value of this often misunderstood play while at the same time shoring up the argument that its thematic subtext ("civilization" vs. nature, corruption vs. love) has some fascinating substance.
To put it another way, one that Lombardo himself may or may not appreciate: this production is to Shakespeare what The Dark Knight was to Batman. It may sound crazy, but hear me out. The first half of the play is one of the sleekest, coolest Shakespeare stagings I've ever seen.
The vibe is urban gothic, with three huge, high-tech screens behind the stage that conjures up an epic dose of cold cosmopolitan chic. The lighting by Daniel Meeker is used to full effect for this purpose, as in an interrogation scene that features several characters huddled around one single harsh light, stage right.
Baddies like Duke Frederick, who of course drives his brother Duke Senior (and eventually all of the play's main characters) into the Forest of Arden, are given an underworld flavor highlighted by the sharp black suits and glamour wear by B. Modern (who has done a lot of work for Shakespeare Santa Cruz over the years). And the updating of the play's crooked-wrestling subplot to the world of ultimate fighting is genius.
When the action shifts to the forest, the play always seem to bog down; however, an able cast featuring Anna Bullard as the cross-dressing Rosalind (one of Shakespeare's most interesting female characters) and Blake Ellis as a wonderfully goofy-but-lovable Orlando keeps the interplay intriguing, in a build-up to a fabulous ending.
But by far, the standout moment is James Carpenter's delivery of the play's famous "all the world's a stage" monologue. I've seen this play performed many times, including in the film version, and I've never seen anything that even comes close to what Carpenter does here.
To give away too many details would risk spoiling the breathtaking surprises to be experienced; suffice it to say that to say that to see Carpenter as the melancholy Jacques act this scene in a flurry of snowflakes, against a backdrop of a winter forest lit by a blue glow, is the most powerful moment of theater I can recall seeing in quite some time.
His performance is the first among many elements that combine to make this not just must-see Shakespeare, but must-see theater, pure and simple.
AS YOU LIKE IT, a San Jose Repertory Theatre production, plays Tuesday at 7:30pm, Wednesday at 11am and 8pm, Thursday–Friday at 8pm, Saturday at 3 and 8pm and Sunday at 2pm through Sept. 27 at the Rep, 101 Paseo de San Antonio, San Jose. Tickets are $35–$64. (408.367.7255)
Send a letter to the editor about this story.