09.09.09
home | metro silicon valley index | music & nightlife | band review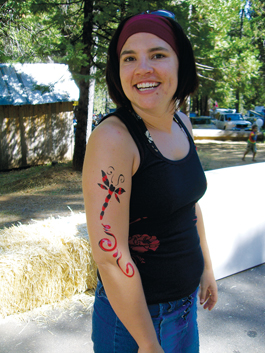 Photograph by Peter Schaaf
A HELPING LAUGH: Comedian Jenn Pope is saluted at a fundraiser in her honor this Sunday.
Gesture for Jenn
By Gary Singh
THIS SUNDAY (Sept. 13), members of the standup comedy scene, as well as hometown bands, are throwing a daylong hoedown in support of local comic Jenn Pope, who was recently diagnosed with a brain tumor. A knee-slapping afternoon show at the San Jose Improv kicks off the fundraising merriment, followed by an evening of local bands at the Voodoo Lounge.
Standup comedian and Caravan bartender Rachel Warner threw it all together and will host the Improv show. "When my best friend Jenn was diagnosed with a brain tumor the size of a tennis ball in March, it took four visits to the emergency room before they would give her a CAT scan, even with insurance," Warner said. "She went through two weeks of hell just trying to get someone to help her figure out what her blinding headaches meant."
Crackpots scheduled for the Improv show include Eric Toms, host of Reality Binge on FOX Reality Channel; Drennon Davis, the "Famous and Amazing Mr. D"; bluegrass musician Kriss Light; Jamie DeWolf, host of the long-running "Tourettes Without Regrets" monthly show in Oakland; and Cobie Smulders of the CBS show How I Met Your Mother, who will contribute a special video segment. Just as the local indie-music scene in San Jose continues to function between the cracks, so does the local comedy crowd. Butch Escobar, who, like Warner, slings powerful white Russians at the Caravan, hosts Unfiltered Underground, a raucous monthly event on the last Wednesday of every month at the Improv. Escobar will emcee the evening portion at the Voodoo Lounge. Featured bands include the Gillbillies, the Pimpsticks and Them Slackjawed Sons of Bitches.
"When I asked local musicians and venues to come together with me and a bunch of comics and do a fundraiser for a woman most of them didn't even know, the answer was an immediate, 'Yes, yes, yes,'" said Warner. "This experience has proven to me just how tight-knit and awesome the San Jose arts community really is, and how downtown takes care of its own."
THE SAN JOSE IMPROV SHOW takes place Sunday (Sept. 13) at 2pm; $20 plus two-item minimum at 62 S. Second St., San Jose. (408.280.7475). The VOODOO LOUNGE show is Sunday at 5pm at 14 S. Second St., San Jose; $5 or free with Improv benefit ticket stub. (408.286.8636)
Send a letter to the editor about this story.