09.09.09
home | metro silicon valley index | silicon valley restaurants | review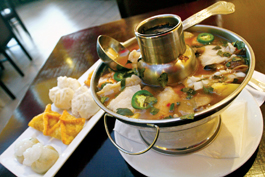 Photograph by Felipe Buitrago
FLOATING WORLD: The seafood tamarind hot pot and dumpling sampler show off Ginger Cafe's range.
Chinese Surprise
Despite expectations, Sunnyvale's Ginger Cafe serves a strong pan-Asian menu with fresh ingredients
By Stett Holbrook
When I visited Ginger Cafe for the first time a little while ago, I expected ordinary American-style Chinese food awash in sauces as thick and sweet as ketchup, in a garish dining room that's supposed to evoke Chinese exoticism to non-Chinese diners.
That's not what I found. Instead, I was confronted by a menu that's mainly Chinese, but makes stops in Vietnam, Thailand and Hong Kong—an effort to please as many people as possible but without providing mastery of any one cuisine, I thought.
Inside, the dramatic, circular dining room is done up in all kinds of Asian art and furnishings, a Buddha head, rattan furniture hanging from the walls, red flags and a massive, wheel-like wooden chandelier suspended from the ceiling. A P.F. Chang's knock-off, I thought.
But I thought wrong.
Ginger Cafe offers a solid menu of satisfying Asian standards served with noticeably fresh ingredients. Chef Tuyen Chung was born in Vietnam but lived in Hong Kong and China before coming to the United States, so the pan-Asian menu isn't a gimmick; it's a reflection of his diverse experiences.
I didn't expect dim sum from such a wide-ranging menu, but the short list offers several dim sum classics that are a testament to the kitchen's skill, like the juicy Shanghai dumplings ($5), crispy blue-crab dumplings ($4.50) and pan-fried leek and shrimp in rice paper ($4.50).
The cilantro-and-lime-juice-marinated squid and shrimp served on crispy shrimp crackers is a refreshing starter ($9) for the withering heat we've had recently. It's beautifully presented on a long white plate. Eat it quickly, though. The seafood marinade quickly makes the crackers soggy.
The Thai-inspired spicy seafood coconut soup ($10) is another winner.
Made with squid, shrimp, mushrooms and bamboo shoots in a lemon-grass-enlivened coconut-milk broth, it's brightly flavored and satisfying.
Less accomplished was Ginger Cafe's string bean chicken ($8.25). With wok-blistered green beans, timing is everything. Cooked too long or left to linger in the kitchen the beans loose their snap and "wok hay," the just-cooked vitality they have right after leaving the wok. Mine were cooked past their prime, and the chicken, while tender and flavorful, was drowned in a goopy sauce.
The best dishes I tried at the Sunnyvale restaurant were the XO bacon-wrapped scallops ($17) and the cumin lamb ($17). Given their fatty richness, I think of scallops as the bacon of the sea. Adding bacon to them plays off their savory goodness. The bok choy and distinctive XO sauce make this dish easy to love.
The lamb is tossed with fat mushrooms and red bell peppers and enough cumin seeds to make it crunchy. The lamb itself is wonderfully tender and touched with a thin but assertive garlic-laced glaze.
There' s a full bar and a good selection of tea. I ordered a pot of oolong tea ($2.50) and was pleased to see they serve high-quality loose leaves, not the bagged stuff.
Ginger Cafe offers a few desserts, such as fried bananas and red beans with mango served in little shot glasses with whipped cream ($2 each), but I skipped them.
The restaurant serves a good number of vegetarian dishes and a few mock-meat items, such as the vegetarian kung pao chicken ($8.75) and vegetarian Thai duck curry ($11). The "chicken" is made with soy protein and is surprisingly poultrylike.
The "duck" made with wheat gluten is not as good, since it's rather flabby, kind of like duck skin. The yellow curry sauce served with it is good but didn't deliver the spiciness advertised on the menu.
Sure, this isn't the rigorously traditional Asian food you can find in Milpitas or Newark, but that's OK. The food can be good, the setting is quite comfortable and the full bar helps ease the sting of the electronic lounge music, Phil Collins and monsters of light rock standards that play on the sound system.
Lesson learned. First impressions about a restaurant often don't hold up. The proof is in the plate.
---
Ginger Cafe
Address: 398 W. El Camino Real, Suite 114, Sunnyvale.
Phone: 408.736.2828.
Hours: 11am–10pm Sun–Sat.
Cuisine: Pan-Asian.
Price Range: Entrees $11–$28.
Web: Gingercafe.net.
Send a letter to the editor about this story.