09.09.09
home | metro silicon valley index | music & nightlife | band review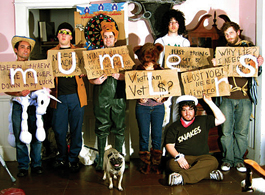 AGENTS OF CHANGE: The Mumlers play a release party for their new album Friday at the Blank Club.
'Away' With The Mumlers
On the eve of their record release show, Mumlers leader Will Sprott breaks down their new album, track by track
By Steve Palopoli
THE Mumlers' debut record, 2007's Thickets and Stitches, launched the ambitious San Jose band onto a national stage. Besides attention from Rolling Stone and NPR, it was the album that launched a thousand blog posts. The consensus: Ambitious. Fascinating. Soulful. Distinctive. And above all, unpredictable.
They ain't seen nothing yet. The Mumlers' follow-up, Don't Throw Me Away, which drops Sept. 9, is twice the record that Thickets and Stitches was, branching out in every direction at once. Its first single "Coffin Factory" sounds like a cross between ? and the Mysterians' "99 Tears" and Talking Heads' Fear of Music album, while something like "99 Years Ago" is so textured and atmospheric it should be immediately put on the soundtrack to something.
As the band prepared to play a record release party at the Blank Club this Friday, I asked Mumlers frontman Will Sprott to break down Don't Throw Me Away track by track.
'Raise the Blinds' "We put that song on at the beginning of the record because we thought it'd be hard to say what kind of music it was. It's not clearly any genre. It's really frustrating as a musician when people ask me what kind of kind of band we are. I can't answer it. And that song is really fun to play, it's got all those little changes."
'St James St.' It's pretty much a literal description of my street. I lived right on the corner of St. James and Sixth Street in San Jose. There's a 7-Eleven right there, and there were always people coming and going. I was trying to take the neighborhood and imbue it with some sort of mythological force. And it's a play on "St. James Infirmary," the old song.
'Tangled Up With You' "I wrote the music before I wrote the words; it doesn't always go like that. I had a particular idea about it, that line that walks up, "bum, bum, bum, bum," it was very clear that should be in there. When I played it with the band, that one idea started morphing, and it had this mariachi feel to it. You can really hear it in the middle. We were really into it."
'Coffin Factory' "I wasn't thinking of "99 Tears" consciously, but it's very possible that that song is soaked down deep in my consciousness. Because ? and the Mysterians starts with a symbol, so it's the first thing that plays when I turn on my iPod. I've heard that song 3 trillion times. When we went into record the songs, we sort of demoed them for the engineer and the guys that run our record label. They were like, 'This is a cool song, but we're not sure its going to fit on this record.' But I knew it would work. [Afterward] they wanted it as the single."
'99 Years Ago' "It's another one where it's really hard to say what kind of music it is. I wrote that song a really long time ago, and didn't put the words to it until later. Actually, it had a completely different set of lyrics. I'm glad [it seems] atmospheric, that's something we've always been interested in. We've always thought it would be fun to score movies, do something purely atmospheric. We have so many different sounds at our disposal."
'Sunken City' "I worked for a short time at the Tech Museum. I was the 'console operator' at the IMAX theater. It was the most mind-numbing job I've ever had. I'd sneak out on my lunch break and go to Cesar Chavez Park [where the song is set]. It really was pretty much written sitting in Cesar Chavez Park. I kind of like that one, because I don't really specialize in happy songs, but I feel like that one's uplifting."
'Soot Black Suit' "That was the other one where people said 'Really? That has something to do with the other songs on the record?' But I really like that one. It's the only instrumental on the album. We don't use that many guitar effects and pedals, but the studio we were at had a stockpile of them. We had a lot of fun arranging it."
'Golden Arm & Black Hand' "That's the only song that we recorded for the first record. We weren't ever happy with that recording, so we rerecorded it. We all like the song a lot, but it's been hard to pin down. It's been a very hard song to capture. It's got tricky harmonies that we've changed a lot over time. And it doesn't have that party vibe that a lot of the stuff we play can have, because our live show is really geared toward being fun and entertaining. But I'm happy with this recording of it."
'Fugitive and Vagabond' "That's the only song I've ever written for something. I'm not going to say what it was for, 'cause I'm sort of happy it didn't get used. I got to have my song and do whatever I wanted with it. I wrote the words and music in one day, really quickly, and that's the first time I'd done that."
'Battlefield Postcard' That's a song we've played maybe once or twice live. It's quiet and mellow. It was kicking around for a long time, but it was questionable whether it'd be a band recording or not. It sort of hearkened back to when I first started playing guitar—that's the kind of song I used to play a lot. There's a lot of finger-picking songs the band has never heard."
'Don't Throw Me Away' "That song has just gotten such a good reaction, more so than any other song that we've ever written or played. We've been playing it since the release for our last record, and people would always come up and ask if it was on a record. It was a weird song. It's more like it could be a song from 50 years ago. The first time I played it for the band, they didn't even think I wrote it, they thought I was messing around with some cover song. But it's grown on us over time. The guys who run the record label didn't really want us to put it at the end, but we were trying to make it all hang together as a record, and it just seemed like the best thing to end it on."
THE MUMLERS play a CD release party Friday, Sept. 11, at 9pm at the Blank Club, 44 S. Almaden Ave., San Jose. Tickets are $8. (408.292.5265)
Send a letter to the editor about this story.