09.09.09
home | metro silicon valley index | the arts | stage | review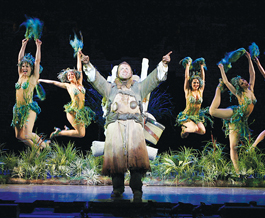 Photograph by Joan Marcus
LEAPIN' LAKERS: Jeff Dumas dances with the Laker Girls in 'Monty Python's Spamalot.'
'Spamalot' Springs
By Andrea Frainier
SILICON VALLEY'S Broadway drought is coming to an end when Broadway San Jose kicks off its premiere season with Monty Python's Spamalot. The touring version of the musical comedy "lovingly ripped off from the motion picture Monty Python and the Holy Grail" is set to open Sept. 15 at the San Jose Center for the Performing Arts for a six-day run. Spamalot, which ended its Broadway run this last spring, was nominated for 14 Tony Awards and took home three, including best musical, in 2005. The Broadway hit is loosely based on the 1975 film and recounts the tale of King Arthur and the Knights of the Round Table as they embark on a quest to find the Holy Grail. While on their mission, King Arthur and company encounter the dancing Laker Girls, a bloodthirsty rabbit, a flatulent Frenchman and an armless and legless knight.
Those familiar with the humor of Monty Python will understand that the musical really makes little to no sense, and that's the point. It mocks Arthurian legends, while lampooning historical characters and pop-culture icons. Critics have hailed Spamalot as a musical for non–theater lovers.
"I really do believe that this is kind of a perfect company they put together with this cast," says Jeff Dumas, who originated the role of Patsy, King Arthur's trusted companion, on the national tour. "As far as the show goes, the creative team did a really good job of maintaining the quality over this long of a run." Highlights of Spamalot include a line of dancing divas and knights, flying cows and an extended version of "Always Look on the Bright Side of Life" from Life of Brian that Dumas' character sings at the top of Act 2.
"Being able to sing the unofficial Python anthem every night is really a privilege," says Dumas. "Growing up we all watched [Monty Python[, and all the guys in the show know everything about it."
Despite the absence of John O'Hurley (from Seinfeld), who played King Arthur during the San Francisco run earlier this year, the touring cast is filled with Broadway veterans, including Christopher Gurr as King Arthur, Merle Dandridge as the Lady of the Lake, James Beaman as Sir Robin, Ben Davis as Sir Galahad and Matthew Greer as Sir Lancelot. When asked why Silicon Valley theatergoers should come out to see Spamalot, after a brief pause, Dumas quipped, "Have you been watching CNN lately? I'll say that is all the reason you need."
MONTY PYTHON'S SPAMALOT, presented by Broadway San Jose, plays Sept. 15–17 at 7:30pm, Sept. 18 at 8pm, Sept. 19 at 2 and 8pm and Sept. 20 at 1 and 6pm at the San Jose Center for the Performing Arts, 255 Almaden Blvd., San Jose. Tickets are $20–$88. (408.792.4111)
Send a letter to the editor about this story.