09.09.09
home | metro silicon valley index | columns | style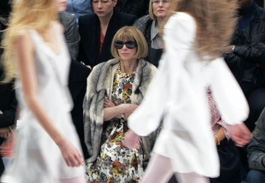 THE DEVIL WEARS FLORAL AND FUR: Vogue editor Anna Wintour rules the rag trade in 'The September Issue.'
A Wintour's Tale
By Jessica Fromm
JUST BECAUSE you like to put on a beautiful Carolina Herrera dress or a pair of J Brand blue jeans instead of something basic from Kmart doesn't mean you're a dumb person." This is one of the first sentences out of Anna Wintour's mouth in The September Issue, the new documentary that focuses on the woman reputed to be "the pope" of high fashion. As editor of American Vogue, the most powerful and best-respected fashion magazine in the world, Wintour reigns supreme over the biggest names in the rag trade and legions of quavering assistants.
Clad in what must be the world's biggest collection of floral-pattern dresses and unashamedly decadent fur coats, her scrawny arms are perpetually folded over her chest as she placidly surveys the scene. In a film being touted as the real The Devil Wears Prada, Wintour does seem to be a caricature of herself. Behind the iron curtain of her perfectly frosted, sculpted bob, this is a woman who really does live in this bifurcated universe of Kmart vs. haute couture.
Directed by R.J. Cutler of The War Room fame, The September Issue will hit selected theaters on Sept. 11, Santana Row's CinéArts among them. The picture is a whirlwind of tense office drama, glamorous photo shoots in far-off locations and racks upon racks of opulent garments, enough to satisfy the thirst of any follower of high fashion. Though well paced and largely entertaining, this portrait still never quite melts the frost behind this most fabled of all ice queens and never looks deep enough at what's behind that pair of notorious dark sunglasses.
The picture largely follows what it takes to create the telephone book of Seventh Avenue, the Vogue September issue of 2007, which to date remains the thickest magazine the publication has ever brought to print. Much of the story focuses on the relationship between Wintour and Vogue creative director Grace Coddington. With her bright red mane falling past her shoulders, fiery personality and artistic genius, Coddington is the exact opposite of robotlike Wintour, and their 20-year-plus partnership is the lifeblood behind the success of the magazine.
However, The September Issue was shot before the worldwide economy went into the shredder. Much of the magazine culture presented in The September Issue no longer exists. Vogue's ad pages have been down significantly the last two years, and there have been consistent whispers circulating that French Vogue's Carine Roitfeld will soon be replacing Wintour as editor. As such, perhaps the world presented in The September Issue, a place where $50,000 can be blown on a photo shoot that is ultimately spiked, turns out to be more of a documentary of a bygone era.
Send a letter to the editor about this story.