09.10.08
home | metro silicon valley index | the arts | Paulo Candido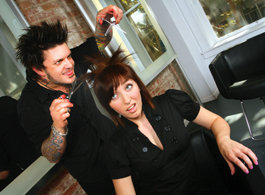 Photograph by Felipe Buitrago
HAIR APPARENT OPaulo Candido goes to work on Krystal Graves at Ego Mechanix.
The Cutting Edge
San Jose stylist Paulo Candido hit reality TV like a force of nature on the latest season of 'Shear Genius.' After blindfolded haircuts, catfights and spending the five-week budget for alcohol in three days, he thought he'd settle back into routine in his salon. But now he's facing a new reality: local celebrity.
By Jennifer Jespersen
Paulo Candido can barely contain himself as he waits for his next client to arrive. Moving through his salon, jonesing for his next cup of coffee, he looks as though he's about to erupt and spew molten flamboyance out of the top of his meticulously manicured head.
The elevator doors open and a man and his young daughter walk into the salon. Before the receptionist can even speak, Candido glides over to them.
"Hi, honey!" he says. "I'm amazing, how are you?"
The receptionist laughs and shakes her head, as if to say "Welcome to Paulo's world."
Despite his sleek style and cool demeanor, Candido's face glows as he sits his client down in the chair and begins doing what he does best. As he trims the man's hair, Candido chats vivaciously, inquiring about how life and work are going, showing a refreshingly unscripted interest in the man's recent vacations and dining escapades. The little girl watches Candido with wide eyes and a giant baby-tooth smile. She loves going with her dad when he gets his hair cut.
Describe a man with spiky black hair, a dark goatee, tattoos riding his arms from his wrists up, mosh-friendly boots and black leather pants, and most people would picture something along the lines of the frontman for Papa Roach. They probably would not picture a superfriendly, highly animated professional who even the weakest gaydar could instantly recognize as a hairstylist. But that's Candido, a man who prides himself on defying what's expected.
Armed with edgy style, a knack for funky cuts and an eye for rock-star glam, Candido is one of San Jose's most innovative stylists. His flair for standout looks is what makes him a sought-after stylist for anyone who shares his itch to ditch the norm.
Ego Mechanix, the industrial-chic salon in downtown San Jose, is home base for Candido's empire of aesthetic appeal. He teaches other stylists, he cuts and colors, he downs enough coffee to make an elephant tap dance and he serves as glamour consultant to hundreds of clients.
And, in his spare time, he signs autographs for little old ladies while having lunch in places like Boston Market. After all, he is San Jose's latest face on reality TV.
Snippets of Real Life
Reality TV shows have a cultish following. Between American Idol, Dancing With the Stars, Project Runway, Hell's Kitchen and plenty of others, there are more blogs and MySpaces dedicated to the millennium's newest brand of entertainment than there are iPhone junkies. While not everyone is a fan of reality TV shows, it's easy to understand why so many people are. We get to satisfy voyeuristic cravings with sobbing moments in front of the camera, the occasional on-air humiliation or catfight, snarky insults from the judge or tongue lashings from the head chef, and of course the inevitable heartwarming moment. It's even easier to understand why many people might want to be on a reality TV show: fame, money and the chance to "make it big."
One of those shows, Shear Genius, shines the spotlight on the art of hairstyling. Hosted by Jaclyn Smith, 12 stylists are chosen from throughout the country to compete for the title of "Shear Genius," $100,000 in seed money from Nexxus and a chance to style hair for an Allure magazine feature. On each episode (of which there are 10), the stylists perform two challenges, with the winner's work being praised as a "shear genius" and the losers kicking rocks after filming their exit interviews.
  The stylists chosen to participate on the show vary drastically in personality and style, from pretty and feisty women to poster-for-pride gay men to neatly manicured straight guys. As the tattooed and pierced one on the latest season of the show, Candido definitely stood out against the rest.
"Everybody in the lobby, when they saw me for the first time, they pegged me as going to be the straight asshole—the tattoos, I had my hair all funky. I had my eyeliner on, I had my black nail polish on. I'm not a swishy-type of homo. I was definitely going to play the rock star of the group."
And it was his rock star personality that helped him stand out against his fellow scissor-wielding contestants. His charm, flamboyance and gobs of charisma made him popular among many of the producers and editors, who he says portrayed him fairly accurately.
"That's the overwhelming response from everybody that knows me. They say, 'That was so you, that's the Candido we know. A kooky, fun, crazy, intense, passionate, potty-mouth.'"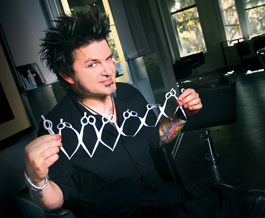 Photograph by Felipe Buitrago
PAPER DOLL: Candido's hard-to-peg personality—tough-looking but puckish—made him a stand-out among the 'Shear Genius' contestants.
A Little Off The Top
 Silicon Valley shook the day Candido got his license to cut hair—literally. It was Oct. 17, 1989. Now 38, his first introduction to the industry was through a San Jose High School career fair (who knew those worked?). The scent of perm solution and hair spray proved intoxicating, wiping all Candido's notions of becoming a pilot, chef or architect from his head. So after graduating high school, he began cosmetology school.  
Opening his first salon in downtown Los Gatos at the age of 24, he spent eight years learning the business and building a client base. A desire to work with other people in a larger space led him to work at a friend's salon, also in Los Gatos. But his funky style stuck out in the snazzy confines of LG, and ultimately he began to feel that he was becoming a little "white-washed" by the whole experience.
"I went from having funky blue hair and big platform shoes and, like, leopard print pants to jeans and a T-shirt and a baseball cap," he says.
Realizing that the nondescript style wasn't compatible with his personality, he decided, "I'm gonna go for the gold and just build the dream salon."
 Seeking a hip, urban setting, he decided to build his salon in downtown San Jose. Three years ago this November, Candido opened Ego Mechanix, a chic, New York loft'style salon with exposed brick and artsy-industrial features located below a tattoo shop and above a tanning salon on downtown's First Street.
 Co-owned by Candido and his boyfriend, Geordie MacDiarmid, Ego Mechanix is a pretension-free, one-stop shop for glamification. MacDiarmid offers custom makeup and facials, waxing is soon to be available, and, in addition to Candido himself, there are seriously talented stylists aplenty for dolling up the ego and giving clients the chance to stand out and feel like rock stars.
 A year-and-a-half ago, just as he was settling in to running his new salon, he learned about an open-call audition for the first season of Shear Genius. The show, to be aired on Bravo, was rumored to be like Project Runway for hairstylists. Candido, who at the time was in need of his own 12-step program to manage his Project Runway addiction, leapt at the opportunity.
Shear Madness
Candido's road to the show was fraught with odd twists and turns, from the woman who cut in front of him for the lengthy audition line to being asked to cut someone's hair blindfolded. He had to take a 550-question psychological evaluation, which involved questions like "Are you afraid of the dark?" and "Do you love your mother?"
Worst of all was beating out thousands to make it to the semifinals and then not being picked for that first season. The only bright spot was that he was encouraged to audition for season two. He did, enduring a second round of try-outs that was as tiresome as the first; he even had to go through the psych evaluation all over again. ("Don't you have mine from last year?" he asked the producers.) Finally, he was selected to be one of the second season's contestants.
Filming Shear Genius proved to be harder than most people might expect—Candido quickly learned that the labors of running a salon had nothing on reality TV. Sequestered in a house in Hermosa Beach during the filming process (which took place at a nearby studio), Candido and his fellow stylists were cut off from all contact with the world. No phone, no Internet, no television, no music, no movies, no newspapers. It was "absolutely nothing but each other and alcohol ... and food," he says.
If there was ever a recipe for catfights, this was it. The producers didn't have to script anything.
"They really didn't need to do that with us. We kinda gave them everything that they wanted," Candido says. "They didn't really have to provoke fights or anything because it pretty much happened very naturally. When you put hairdressers in a house with alcohol, something is bound to happen. We're fuckin' drama queens!"
These particular drama queens blew through the show's five-week budget for alcohol in three days.
Over the filming, the contestants lived, ate, breathed and slept hair and reality TV, with everything being closely observed by a camera or two. Eventually, Candido says, the cameras became invisible to all of the stylists, blending in among blow dryers and bottles of hairspray. Each morning began with appearing on the set around 7 or 8am, and that's where they would stay until long past the witching hour. It took two days to shoot one episode, and challenges presented daily tried their patience and their skills. These included working on the bitchiest of Orange County housewives, creating back-to-school looks for 5-year-olds and even cutting the hair of both a client and their dog with the goal of making them look like a compatible pair.
One challenge, the most emotional for Candido, had them creating wig styles for women with alopecia, a condition that makes them completely hairless. 
"I lost it through that one. That was a heavy, heavy episode. At that point, it wasn't a reality show; we were really doing something for somebody."
Hometown Highlights
Standard perks like career boosts have to apply when weighing the value of any stint on a reality TV show. But Candido says another motivation was good old-fashioned hometown pride. It's when he talks about his love for San Jose that he is most riled, using his most flamboyant gestures and letting the F-bomb drop.
 "I wanted the world to know where the fuck San Jose really is," he says. "One of the questions that was asked of me in my very first interview with the producers was, 'You are a little fish in a little pond, how do you feel about being a big fish in a big pond?' And I thought to myself, how fucking dare you call me a little fish in a little pond. This guy's sitting there with his Blackberry, his Apple computer, all his little gadgets and toys. ... Guess where all of that stuff was made, baby doll?! Silicon-fucking-Valley's San Jose!" If there's one appellation Candido hates, it's "San Francisco Bay Area," the euphemism South Bay residents with an inferiority complex use to describe where they live.
"I love San Francisco, don't get me wrong, but I'm from San Jose, been here all my life," he says. "It's grown so much. ... San Jose is hot and happening. It's a great place to live. I'm going to put fucking San Jose on the map, somehow, some way. It's a place where you can raise your family, it's a good place to live, it's not affordable, yes, I know that, but it's a hot and happening town! I got tired of people not knowing where it was, and I wanted to represent it as best as I could."
Candido believes most people have no idea how much progress San Jose has made in the last couple of decades.  
"I remember what downtown looked like 30 years ago, with the Woolworth's where we had the hookers on First Street. The Fairmont wasn't there—it was a big water park that I used to get drunk at when I was 15. It was seedy, it was very seedy," he says. "And now it's come a long way. It's a great place to live."
 The Final Cut
The show finished filming on April 14, though it began airing on June 25. To keep all of the suspense intact, each stylist had to sign a $5 million nondisclosure agreement.
Candido put his all into the show; working his ass off and secretly hoping that one of the other stylists did a horrible job. He snipped, colored and styled his way through the grueling reviews and occasional praises of haughty celebrity-stylist judges. And though he made it to the top five, his time on Shear Genius came to an end with the eighth episode.
After his exit interview, Candido came home with a little celebrity glam and waited for the show to hit the air. When he did, he noticed a change right away.
"I'm like that guy now that people recognize on the streets. It's so bizarre!" he says. "It's so bizarre because I'm no different."
People frequently ask him how the show has changed him or his life.
"I feel the same. I am the same!" he says. "I live in the same house in San Jose, I have the same boyfriend, I drive the same truck. The only difference is that I've been on TV now and some people know who I am, some people don't. Some people, they really like me, and some really hate me. It's kinda fun getting recognized when I go places, sure, but it doesn't matter."
Hopefully Candido hadn't planned on down time while his local celebrity status wears off. With his appointment book clogged up through December, including hosting a charity event for Wigs for Kids in November and signing random autographs, he's got his work cut out for him.
  Ultimately, one of Candido's biggest disappointments with Shear Genius is that they didn't spend more time talking about where the stylists were from. It still bothers him that they didn't promote San Jose more. With a jam-packed appointment book and a little help from his co-workers, Candido's simple goal is to prove, one cut at a time, that "you don't have to go to San Francisco to get a good haircut."
Send a letter to the editor about this story.