09.10.08
home | metro silicon valley index | silicon valley restaurants | review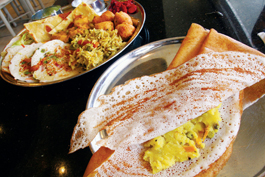 Photograph by Felipe Buitrago
I'M A CREPE, I'M A WEIRD DOUGH: Dosas like this one at Udupi Palace are a South Bay specialty.
Dosa Reality
Where to find Silicon Valley's best South Indian snacks
By Emily N. Cannon
ONE of the best things about living in Silicon Valley is the quality and variety of multicultural cuisine, and Indian is no exception. A quick drive down El Camino reveals dozens of Indian restaurants, groceries and shops, and more than a handful of those serve a miraculous invention, the dosa.
Back when I lived in Seattle, I enjoyed my basmati rice, naan and rich curries like everyone else, but my Silicon Valley transplant boyfriend told tales of a large, savory crepe stuffed with potatoes and eaten with soup and chutney. Seeking it out was among my first food adventures in San Jose—and one of the most satisfying.
Visually striking and secretly nutritious, regular dosas are made from rice, lentils and a little fermentation, spread out in an impossibly thin layer on a hot griddle. The texture ranges from cracker crisp to soft and chewy, and they're usually accompanied by a vegetable lentil soup called sambar and coconut chutney, but variations are endless. At most South Bay restaurants specializing in this type of vegetarian cuisine from South India, the menu also includes masala dosa, stuffed with a mildly spiced potato mixture, and mysore masala dosa, which has a spicy paste smeared on it before it's stuffed with potatoes, plus any number of house specialties. Many offer rava dosas, whose semolina-based batter doesn't require fermentation. All are eaten by ripping off pieces to dip in the chutney and sambar.
In the South Bay, Saravana Bhavan might be the gold standard for South Indian restaurants. It's always packed, always loud and can be counted on to serve good food. The dosa offerings are pretty typical, but give the classic masala dosa ($8) a shot. Over a foot in diameter, its outer edges are crisp, but the center is chewy. Good spices and a pleasant texture distinguish the masala filling, while the array of condiments—a spicy sambar and three chutneys: coconut, cilantro coconut and tomato—add to the flavor possibilities. Finish it off with a cup of madras coffee ($3), served sweet and milky with a hint of spice.
For a different dosa experience, check out Dasaprakash. While most Indian vegetarian restaurants don't serve alcohol, Dasaprakash offers an assortment of wine and beer in a modern, well-decorated space. Beyond the usual offerings, there's a mung-bean-based dosa, pesseret ($7), that comes stuffed with diced red onion, green chiles and shredded ginger. The texture resembles a regular dosa, crispy and chewy in parts, but the flavor is slightly sour, contrasting nicely with the sharp, aromatic filling. Coconut, chili coconut and sour tamarind chutneys add to the complexity, while an inoffensive sambar brings it all together. If you're not drinking alcohol, try another chilled beverage, like the fresh lime ($2), a refreshing, not-too-sweet take on limeade.
At Tirupathi Bhimas, the dosa clan encompasses about a third of the menu. A few items feature butter or ghee, and a few have cheese. There's also a riff on the standard masala dosa, the malabar masala dosa ($7), that a waiter described vaguely as using different spices in the potatoes. But on a recent visit, I was drawn to the andhra kara dosa ($7), which has a chile paste spread on the inside along with some minced potatoes, onions and spices—not the mound of masala filling found in other dosas—served with peanut chutney, coconut chutney and sambar. The dosa is not at all oily and the chile paste gives it a nice amount of heat, while the chutneys are complementary and cooling. I like the sambar because it is thick enough to coat the dosa when dipped, but its flavor is mild.
The low-frill restaurant is often full of tech workers, but service is quick and friendly. It also caters, and among the offerings is an "onsite dosa party." That's my kind of party.
If you prefer no-frills—as in, served-on-paper-plates-and-styrofoam-cups no-frills—head to Swathi Tiffins, attached to grocer Namaste Plaza and featuring pagers that let you know your order awaits you at the counter. Its dosa menu includes the usual suspects—rava, onion, mysore, masala, spring dosa with vegetables, idly (steamed lentil-rice cakes) and vada (deep-fried lentil dumplings resembling doughnuts). I can't recommend straying from that. My bhel poori ($3.50), a chaat item with fresh onion, cilantro, puffed rice and crispy noodles, was soggy and flavorless.
The dosas themselves are average, with edges sometimes too crisp for the task of scooping up masala filling, but they are serious about spice. The mysore masala dosa ($5.29) has some heat with a mustardy edge, while the spicy kara masala dosa ($5.29) isn't shy with the chile paste. The masala filling here is soft and scoopable with mild spices and plenty of onion. The coconut chutney is fairly bland, but the chile chutney is a delightful companion to the dosas and sambar.
These are just a few local places to try this classic Indian snack. Back on El Camino, drive long enough and you'll pass by more, like Udupi Palace, Dosa Place and Madras Café—and they're all worth trying.
Send a letter to the editor about this story.