09.10.08
home | metro silicon valley index | movies | current reviews | dvd review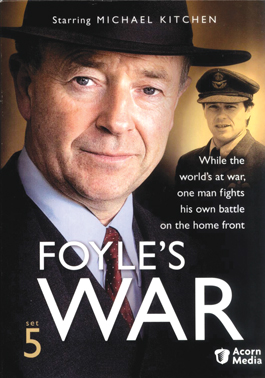 Foyle's War: Set 5
Three discs; Acorn Media; $49.99
Reviewed by Michael S. Gant
Not exactly a dramatic series in the American mode, the British TV drama (for the ITV channel) Foyle's War, which started in 2002, presented only a handful of movie-length (100 minutes) episodes a year. Set during World War II, the show followed the home-front police work of Detective Chief Superintendent Christopher Foyle (Michael Kitchen), his assistant, Detective Sergeant Paul Milner (Anthony Howell), and his perky red-haired driver, Samantha (the euphoniously christened Honeysuckle Weeks). Stationed in Hastings in East Sussex, the characters investigate a variety of crimes, many of them related to the great conflict, such as smuggling. What might be a quiet town also houses some important military operations, which ups the stakes for the methodical Foyle; in a few cases, the need for victory at all costs clashes with his deep-won sense of justice. The series (unless rumors of a postwar revival pan out) concluded in 2008 with the three episodes on this set. The cases—ranging from fraud to murder to suspicious suicide—track the final 13 months of the war. As always, the production values are superb: the show captures the fortitude, the longing, the deprivations of a country at war. Kitchen, who holds his emotions very close to his chest, provides a strong anchor for the other characters to play off of: Milner is starting a family and hoping for a new posting; Sam flounders a bit trying to find a place for herself beyond chauffering Foyle about the countryside. As the war comes to a conclusion, terrible strains show in Hastings: resentment toward loosely held German prisoners, anger at clergy who counsel forgiveness against the enemy. In one especially powerful scene, a woman who has lost both her husband and her son to the fighting is beyond tears; victory itself will be scant consolation to her. The final episode, which take place in the days leading up to Churchhill's radio announcement of the German surrender, takes advantage of the historical climax to bring the series to a rousing conclusion. In an especially deft touch, Foyle does the seemingly impossible, much to Sam's surprise. The extras include some interviews about the historical background for the show.
Click Here to Talk About Movies at Metro's New Blog
Send a letter to the editor about this story.