09.10.08
home | metro silicon valley index | movies | current reviews | dvd review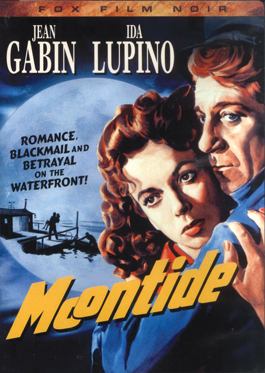 Moontide
One disc; 20th Century Fox; $14.98
Reviewed by Michael S. Gant
This curiosity from 1942 contains just enough shadowy lighting and hints of implacable fate to justify it as part of Fox's excellent film noir DVD series (whatever it takes to get fresh prints, I say). The great French star Jean Gabin, in his first American role, looks distinctly uneasy with his English dialogue; despite his best efforts, he ends up sounding like a caricature of a Frenchman. It doesn't help that his character, Bobo, has a clown's name. Bobo, a California itinerant seaman, pals around with borderline psycho Tiny (Thomas Mitchell, cast against type), drinking his way through life waiting for the next ship to sail—until he saves waifish Anna (Ida Lupino) from a suicide attempt. All seems fine as the two set up shop in a floating bait shop and fall in love—too bad that Bobo can't remember what happened the night of one epic inebriation that left a man dead. For obscure reasons, Claude Rains hangs around dispensing sage advice and passively accepting some veiled homosexual abuse from Mitchell's Tiny. The bombing of Pearl Harbor forced the production off location and into a studio with a painted-sky backdrop for the barge scenes, which gives the film the feel of a hothouse fable. The opening drunk scene (supposedly based on ideas developed by Salvador Dali), with spinning bottles as the hands on a cock-eyed clock and a woman who disappears, leaving her animated dress behind, is a real tour de force, as is the conclusion, in which a menacing silhouetted Bobo confronts Tiny on the barren, wave-swept jetty at night. Unfortunately, Gabin's talent doesn't translate from his native language, and the romance with Lupino is as false as the appended "happy" ending. The "making of" documentary is filled with fascinating material. Moontide was adapted from a genuinely steamy novel by character actor Willard Robertson; Fox's head, Darryl F. Zanuck, gutted the script of its various sordid subplots about Anna's unsavory past, explaining the film's oddly unmoored plot. Fritz Lang, the original director, bailed early as a result. Fascinating advertising art shows how Hollywood tried to sell Gabin ("it's pronounced Gab-ban") to American audiences.
Click Here to Talk About Movies at Metro's New Blog
Send a letter to the editor about this story.