09.10.08
home | metro silicon valley index | movies | current reviews | dvd review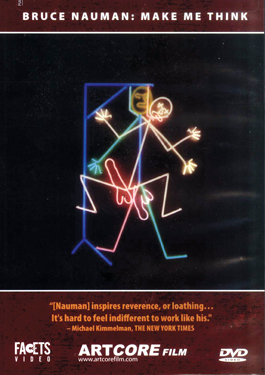 Bruce Nauman: Make Me Think
One disc; Facets Video/Artcore Film; $26.99
Reviewed by Michael S. Gant
Starting in the 1960s in the Bay Area, artist Bruce Nauman made sculptures from nonart materials like dirt, neon, polyester resin and burlap. With a fertile, almost frenzied creativity, Nauman also pioneered video installations and body art. Now something of a recluse, living in New Mexico, Nauman continues to exert art-world influence. Last year, UC Press published a comprehensive volume about his early period, A Rose Has No Teeth. The book, however, lacked a companion DVD—too much of Nauman's art depends on time and movement to be captured in static illustrations. Bruce Nauman: Make Me Think, a 66-minute 1997 film by Heinz Peter Schwerfel, now available from Facets, provides that missing link. The documentary, filmed at a Nauman retrospective at New York's Museum of Modern Art and several European museums, provides a wide-ranging selection of Nauman's sculptural investigations and his seminal videos. In one video, the artist carefully applies paint to his face and manipulates his cheeks, mouth and eyes; as one of the narratives intones, we are seeing "the self-consciousness of a young artist who wants to become his own sculpture." Some of the videos deliberately pummel the viewer: an upside-down spinning head screams over an ear-shattering electronic background. The infamous Clown Torture video satisfies our secret hatred of Bozo but is nearly unwatchable, which was part of the point. The best sequences show Nauman's wonderful neon sculptures in which the brightly flashing words produce oddly affecting alternating phrases like "run from fear, fun from fear." A wall of neon lights up with single variations on the dictate "to live" until the whole piece winks on at once in a spectrum of colored language. The film, taking its cue from Nauman's own style, captures its talking heads in various video-bank arrays mounted in an abandoned warehouse.
Click Here to Talk About Movies at Metro's New Blog
Send a letter to the editor about this story.