09.10.08
home | metro silicon valley index | movies | current reviews | film review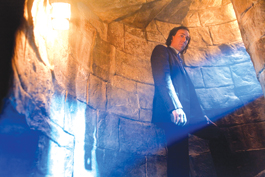 Photograph by Chan Kam Chuen
BLUE-LIGHT SPECIAL: Nicolas Cage lurks in the fluorescent nightscapes of 'Bangkok Dangerous.'
Kong of Siam
'Bangkok Dangerous': Of course, it's dangerous; it's so dark you could break a leg
By Richard von Busack
LOOKING LIKE Gary Shandling in a Johnny Cash wig, Nicolas Cage plays "Joe," the enigmatically one-named hit man who plays by the usual code: don't get involved with outsiders, don't ask questions, know when to get out. It's a hard, honest dollar carrying out the craft of man killing in exotic locations we can't even see clearly. Thailand's Pang brothers, remaking their 1999 thriller, apparently lit this movie with a dying flashlight. Christopher Doyle's photography for Chungking Express seems to have been the model, but the blue-white aura of fluorescent lights at night is pumped up until the characters have little patches on them that look like azure eczema and their flesh looks as oily and coppery as a cup full of bad pennies. Cage's mulish, crestfallen face hangs in the visual grease as if he were playing the title character in a shot-in-Manila Dracula movie. Meet the new bosses: a Sammo Hung–style fatty and his blond-dyed assistant, who have second thoughts about hiring a fereng hit man: "We don't know him, and he doesn't know us. It's better that way," they decide. The point is moot anyway; it's not like you could recognize your own mother in this artistic murk. Needing a go-between, Joe picks up a street thief called Kong (Shahkrit Yamnarm). Kong takes to the role of sidekick with an alarming appetite for someone in a 2008 movie (he calls the American "boss"). The new guy proves his loyalty by taking a beating rather than giving muggers the contents of a briefcase he's delivering. Ordinarily, Joe would have killed Kong as a precaution for this lapse. He explains it to us in the narration. "Why didn't I kill him? This is strange. When I looked into his eyes I saw myself."
People do get shot along the way, and there's a klong chase (lookout for the floating fruit cart!) that makes the canal-boat action in The Man With the Golden Gun look like David Lean. Between assassinations, the two meet girls; Kong gets a thing going with a nightclub dancer. And Joe meets a shop assistant at the local pharmacy, a deaf and dumb girl played with silent-movie winsomeness by Charlie Yeung. (She is called Fon—it means, sob, "Rain").
Those remembering the actor Cage was once upon a time will be cheered by the few good minutes in this morose and derivative shoot-'em-up. He finds a goofy sweetness to match Yeung's own. Goofy is the word here; she is allegedly a citizen of the worst city in the whole world, and she conducts herself like a farm girl in a D.W. Griffith movie. The moment of her passing a delicately worded note in English to Joe is rather gentle, even if their dates are as visually horrible as anything else in Bangkok Dangerous. They take in an exhibition of traditional dance at what looks like the two-drink-minimum floorshow whilst sharing a Thai meal of burnt human tongue. (Who knew? Thai food is spicy!). The movie shows its spiritual side with a wander through a Buddha grotto. The radiance is dimmed not just by the insufferably grimy photography but also by the signs begging for coins in both Thai and English.

BANGKOK DANGEROUS (R; 99 min.), directed by Oxide and Danny Pang, written by Jason Richman and Oxide and Danny Pang, photographed by Decha Srimantra and starring Nicolas Cage and Shahkrit Yamnarm, plays valleywide.
Click Here to Talk About Movies at Metro's New Blog
Send a letter to the editor about this story.