09.10.08
home | metro silicon valley index | movies | current reviews | film review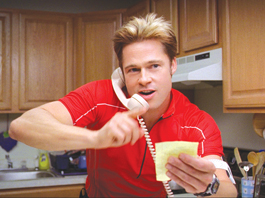 Photograph by Focus Features HANGING CHAD: Brad Pitt goes for the gimmicks as a ditzy gym rat named Chad in 'Burn After Reading.'
Burned
The Coen brothers' 'Burn After Reading' is a subterfuge centrifuge, only without a center
By Richard von Busack
THERE MAY be a cult for Burn After Reading just because it is so deliberately conceptually half-baked; no doubt some people will see this as a satirical dagger pointed at the heart of everything baked. There are too many talents involved in the Coen brothers' new film for it to be an entire frost. Emmanuel Lubezki's landscapes make the leafy East Coast locations—New York posing as the rich Maryland suburbs around Washington, D.C.—look like a forest of Arden. But the film isn't the kind of comedy of remarriage that made the golden era of screwball comedy exist. It's more strictly a divorce movie—you know, the crueler sort of comedy in which the women have all the power? Of the three women in this film, two are bitches, and one is psychotically driven by the desire to have plastic surgery. The movie doesn't trust that there are true lovers somewhere in D.C., the city of desperate liars. The opening trauma is the firing of Osborne Cox (John Malkovich), a self-important CIA analyst who is kicked downstairs for drunkenness. He has a fit (there are a lot of fits in this movie) and quits to go write a novel. The only problem is that his wife, Katie (Tilda Swinton), has no faith in him, either as a writer or as a husband. She is carrying on an affair with a vain and half-bright treasury agent, Harry Pfarrer (George Clooney), and she thinks the time has come for her and the married Harry to ditch their spouses. On the advice of her lawyer, Katie downloads Osborne's financial records and fragments of his novel in preparation for divorce.
What Katie doesn't know is that Harry is compulsively picking up women on the Internet for trysts. One such is a lonely executive at a local gym, Linda Litzke (Frances McDormand), who is desperate for some plastic surgery. Linda and a featherheaded gym trainer, Chad Feldheimer (Brad Pitt), discover the disc with Osborne's info on it and decide to ask for a "Samaritan tax" (i.e., blackmail). Pitt is busy in his role, trying such reliable laugh-getters as wearing a bicycle rider's uniform, dancing wherever he goes to unheard music and wearing a funny haircut (a 1990s boy-band cut with a frosted streak). McDormand comes as close to creating a center for this film as anyone does. Clooney probably sells the idea of such a compulsive unmotivated sleaze better than any actor could, but the role has neither pity nor juice to it; it's a harsh, estranging characterization. Burn After Reading's anti-joke is that people get into trouble when they act like they're people in a movie. But this is a strangely bitter, lackadaisical film. It has gore, and the innocents get it worst and first. No dude abides after this film is over. The ending takes place in a dismissive conversation between spooks somewhere in the bowels of Langley—David Rasche and J.K. Simmons as a subordinate and a chief discussing the fates of the little people. I think the Coens intended something like Kafka but instead we get exactly the kind of ending that nervous producers paste onto films that no one seems to understand.

BURN AFTER READING (R; 96 min.), directed and written by Ethan and Joel Coen, photographed by Emmanuel Lubezki and starring George Clooney and Frances McDormand, opens Friday valleywide.
Click Here to Talk About Movies at Metro's New Blog
Send a letter to the editor about this story.