09.10.08
home | metro silicon valley index | music & nightlife | band review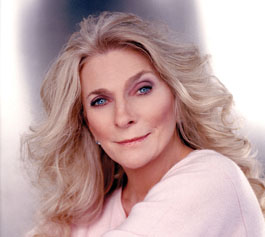 Interpretive Dance: Judy Collins performs Sept. 12 at Redwood City's Fox Theatre.
Cover Story
Judy Collins brings great songwriters' work to the world; they return the favor
By Steve Palopoli
THE INTERPRETER has become the interpreted.After more than 40 years of bringing other songwriters' work to the masses, the new tribute to Judy Collins, Born to the Breed, finally returns the favor. Literally, in some cases, since alongside newer artists like Rufus Wainwright, Dar Williams and Shawn Colvin, the album features Leonard Cohen's version of Collins' "Since You Asked." Without Collins' versions of Cohen's songs—her "Suzanne" is arguably better-known than his original—the world might never have discovered him. The same is true of Joni Mitchell, whose "Both Sides Now" Collins made a hit in 1967.
It's fitting then that Collins, who performs at the Fox Theater in Redwood City on Sept. 12 with acoustic guitar wizard Leo Kottke, should let her contemporaries bring attention to her songwriting and poetry. It's always been there, peppered throughout her more than three dozen albums. But her interpretive work has been so famous that her own writing has rarely gotten as much attention. The biggest exception is probably "My Father," which is in fact the song that got Born to the Breed started, when Chrissie Hynde professed to being a fan.
"I ran into Chrissie at South by Southwest, and she said, '"My Father" is one of my top 10 songs of all time,'" says Collins by phone. Next thing you know, Collins' label was organizing the album and Hynde was performing the song on it. Collins is touched by the results.
"It's so wonderful," she says. "It's been great for me to have a focus on my writing."
As for her own interpretative work, she is tireless. Her most recent album, Judy Collins Sings Lennon and McCartney, seems like a follow-up to her acclaimed Judy Sings Dylan ... Just Like a Woman from 1993. In both cases, Collins has revisited songwriters she covered early in her career and dug deeper into their work. The end result, on each record, is an expansive cycle of interpretation that works as one whole piece as much as a collection of individual songs.
Collins appreciates the opportunity these albums give her to soak in the work of these songwriting greats.
"You get the experience of learning about their emotional and poetic language," she says.
What's most fascinating about Collins' interpretive work is her fierce integrity. For her, covering Dylan and the Beatles today is no different than covering them 40 years ago, because to her, the songs exist outside of time. She refuses to change lyrics—"It's not fair," she says—even when it keeps her from being able to cover a song. For instance, she loves Don McLean's song "Vincent" (the "starry starry night" song about Van Gogh), but can't bring herself to sing it because she disagrees with the cynicism of its last verse: "They would not listen/ They're not listening still/ Perhaps they never will."
When she sits down to learn a new song, she doesn't even ask herself "What can I bring to this?" or "How can I make this song my own?" To do so would dilute the purity of the process.
"I don't ask myself anything," she says. "I look at the lyrics and I sing the lyrics. In the lyrics is everything I need to know."
Just as remarkable is the passion she continues to have for songwriting—she's as in love with great songs as she's ever been. Her newest flame is a song by Jimmy Webb, whose "Moon Is a Harsh Mistress" she famously covered in 1975.
"I'm doing a song of his live now, and it's blowing my mind," she says.
So all the songwriters who want to pitch Collins their work—and countless have over the years, of course—had better remember it's all about chemistry.
"I would never pick something I wasn't head over heels in love with," she says.
Collins is currently considering taking another shot at revisiting her favorite artists in the album format, possibly Webb or Mitchell, or even Stephen Sondheim, whose "Send in the Clowns" was a hit for her (twice) and won her a Grammy in 1976.
Perhaps the best measure of her success came when a friend asked her one of the "big questions" recently.
"He said, 'What would you do if you had a year to live?' And I said, 'Exactly what I'm doing.'"
JUDY COLLINS performs with LEO KOTTKE at 8pm on Friday (Sept. 12) at the Fox Theatre, 2223 Broadway, Redwood City. Tickets are $45–$75. (650.369.4119)
Send a letter to the editor about this story.