09.10.08
home | metro silicon valley index | the arts | stage | review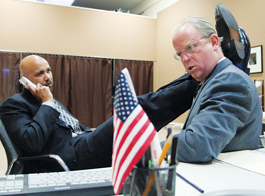 Photograph by Richard Enriquez
DON'T TELL THE HR DEPARTMENT: Manager Fred Sharkey uses some racially charged language in the office in the first half of 'Flag Day.'
Fault Lines
Racial tensions drive 'Flag Day,' presented by San Francisco's Second Wind Productions
By Jessica Fromm
DRIVING UNBLINKING into the hostilities of white-black communication in modern society, Second Wind's production of the two-playlet piece Flag Day creates provocative theater where personal traumas intersect in a high-pressure office and a grungy Texas garage. Flag Day, the most recent work by Pulitzer Prize–nominated playwright Lee Blessing, is the first San Jose offering by the San Francisco–based Second Wind Productions. Featuring abnormal but realistic characters, both plays are vehicles for social and racial issues. Though neither explores these topics to their full potential, the two parts, titled Good Clean Fun and Down and Dirty, put interracial relationships front and center.
Good Clean Fun centers on the arguments between two co-workers, both with major chips on their shoulders. An older white man and his manager, a younger black man, work for a company with a very unique approach to human relations: employees are allowed to say whatever hateful thing that comes to their mind, as long as it lasts no longer than the limit set by a two-minute egg timer. The two men spend the segment provoking and spouting racist and personal attacks at each other, egg timers dinging after each outburst. Hewitt (played by Fred Sharkey) pronounces, "Some kinds of people just aren't ready to assume responsibility," while Denby (Ian Walker) points out that white people "need to sit at the back of the bus for awhile."
With its nontraditional plot, language and delivery constitute the fundamental dramatic elements in Good Clean Fun. The characters seem to use words not to communicate but to evade communication. Instead, they delight in baiting and cutting each other up with the frequent use of certain racist nouns. The redeeming aspects of Good Clean Fun are most obvious when Denby gives his "coffee-colored world" monologue, a speech that blatantly harks back to Martin Luther King Jr.'s "I Have a Dream." Though overreaching, Walker's delivery grounds the segment and makes the speech the pivotal moment of this intense play.
After intermission, Down and Dirty takes on a disturbing scenario based on a real event (recently seen in Stuart Gordon's film Stuck). A white homeless man embedded in a car windshield is slowly bleeding out as the black woman who hit him with her car waits for him to die, so she can dispose of the body. While the woman, Dot (Gloria Belle), and her friend Vandell (Ian Walker again) sit in lawn chairs, drinking beer and discussing what to do, Rex, the homeless man (Doug Thornburg), lies splayed on the windshield trembling, clenching, moaning in pain, and tentatively begging for help. Down and Dirty becomes overly complicated with the addition of an abstract element: the "writer" of the play, Adam (Fred Sharkey) comes onstage to ponder the characters' motivations.
It is obvious that Blessing has the ability to write great speeches, but as a whole, Flag Day always has the air of looking from the outside in on the action. This effect is particularly prevalent in the second half, where Blessing suggests that the characters' actions, or lack thereof, are a natural response to historical white-on-black violence—that it is America that shaped somebody like Dot. Flag Day is described by Second Wind as dark comedy, but the tone of both plays and their subject matter are so intense that even the obviously ironic moments and witty absurdism don't make them any easier to swallow. Of the 15 or so people present at the opening-night performance, only one laughed openly during the entire play.
FLAG DAY, a Second Wind production, plays Friday–Saturday at 8pm and Sunday at 2pm through Sept. 21 at Theatre on San Pedro Square, 20 N. San Pedro St., San Jose. Tickets are $15–$20. (415.508.5614)
Send a letter to the editor about this story.