09.12.07
home | metro silicon valley index | movies | current reviews | film review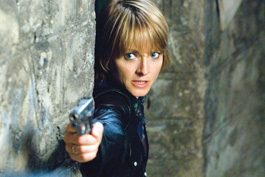 Photograph by Abbot Genser
Pistol-Packin' Mama: When Erica Brain (Jodie Foster) gets mad, she get even the old-fashioned way in 'The Brave One.'
The Shootist
Jodie Foster takes after Chuck Bronson in vengeance thriller 'The Brave One'
By Richard von Busack
THEY call it The Brave One, but there's nothing brave about in this calculated redo of ugly 1970s stuff. Jodie Foster plays Erica Bain, an Ira Glassine radio host who probes Manhattan with a microphone. One evening at Central Park, she, her dog and her too-perfect-to-be-true fiance, David (Naveen Andrews), are viciously assaulted. One of the barbarians filmed the attack on his cell phone, and we see that POV in tormented flashbacks. As Erica slowly recovers in the hospital, she is forced to address a major case of post-traumatic stress syndrome all on her own. And she decides that the therapy she needs is a 9 mm automatic, bought for $1,000 in NYC's Chinatown.
We cross-cut to the dilemma of a homicide detective, named Mercer, equipped with the standard-issue fresh divorce and ghoulishly wise-cracking partner (Nicky Katt). In this role, Howard is determined to be so warm-milky that he almost fades off the screen. They should have called Mercer "Mercy" for short. He doesn't seem to have any crime-fighter's steel in him; not even any words to defend the NYPD when Erica says, "You're the good guys. How come it doesn't feel like that?"
While the cops don't return every stolen item promptly and in good condition, the truth is they are quite good at finding the perpetrators of spectacular unprovoked crimes. The rigged quality of The Brave One's very bad script is that no one really seems to notice when a celebrity's fiance is beaten to death in Central Park.
The appeal of The Brave One, then, is the basic charge that audiences get from watching a woman with a pistol. To keep that charge going, Erica repeatedly has to encounter scum who behave like comic-book scum. No trace of ambiguity colors her killings. Everyone asks for it; everyone deserves it. The audience gets that dark fascist release of watching mouthy subway blacks and stuck-up businessmen get duly ventilated.
Foster's tight-mouthed bearing is a plus. In one fine scene, she wakes up in the hospital and semiconsciously notices a lighted diode on the end of her finger: E.T., is that you? Director Neil Jordan brings class to The Brave One, including cityscapes of Washington Heights, where the direct sunlight makes it look like an entirely different city, and to the edge of Harlem, where there's still enough green overgrowth to look both like a city and a jungle.
I suppose The Brave One pays tribute to crazy crap like Ms. 45, a more vicious and authentic film, derived from the late Jane Wyman's Johnny Belinda. Yet it needs to be judged more harshly than 42nd Street fare, because its pretensions are so much greater. The efforts to find psychological depths in this duded-up grindhouser are laughable. Foster wanders through New York, mulling over D.H. Lawrence's observations on the American soul. Eventually she revisits "The Stranger's Gate" (Central Park West, near 106th Street), the site of her mugging. In voice-over she describes how the violence she suffered—and inflicts—makes her a stranger to herself. Lovely, but the audience's reaction shows that it's not estrangement that it noticed. Rather, it's familiarity: Dirty Harry, Charles Bronson, Jodie Foster—an eternal golden braid of vigilantes, blasting their subhumans, never quenching our bottomless thirst for punishment and retribution.

THE BRAVE ONE (R; 119 min.), directed by Neil Jordan, written by Roderick Taylor, Bruce A. Taylor and Cynthia Mort, photographed by Philippe Rousselot and starring Jodie Foster and Terrence Howard, opens Sept. 14 valleywide.
Send a letter to the editor about this story.